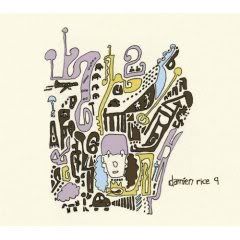 Damien Rice - 9
Tracks Listing:-
1. 9 Crimes
2. The Animals Were Gone
3. Elephant
4. Rootless Tree
5. Dogs
6. Coconut Skins
7. Me, My Yoke, and I
8. Grey Room
9. Accidental Babies
10. Sleep Don't Weep
I was captured by Rice's voice on his first album O. Especially the song "The Blower's Daughter" Indeed he does produce a sooth unique melody where I believe people of all age, would know how to appreciate.
Navigating through "9," his second solo collection of singer/songwriter musings, Damien Rice is evocative and self-assured. The follow up to his 2003 album "O," which garnered both critical and commercial success, "9" is a sparsely-produced, relaxing listen ideal for many a college dorm and hospital waiting room.
With a throaty vocal delivery uncannily reminiscent of alt-country rocker Ryan Adams, Rice sifts subject matter than runs the gamut. "Dogs," for instance, is sure to be played by many guys in the hoping of getting themselves out of the, um, doghouse with their girlfriends, while the latent anger of "Elephant" finds Rice making a strong appeal to a woman manipulating his sex drive.
Elsewhere, the 20+ minute opus "Sleep Don't Weep" at once sounds like a Moby-esque experiment, but is lyrically poignant and devoid of pretense, while "The Animals Were Gone" and "Coconut Skins" articulate feelings men can relate to through colorful melodies, passionate performances and, most importantly, lyrics that get sensitive without all the sap.
Indeed, "9" is a winner. Rice has a lot to say, particularly to men, and his candid, stream of conscious approach to song craft is most endearing.
Green Day - American Idiot
Tracks Listing:-
1. American Idiot
2. Jesus of Suburbia
3. City Of The Damned
4. I Don't Care
5. Dearly Beloved
6. Tales Of Another Broken Home
7. Holiday
8. Boulevard Of Broken Dreams
9. Are We The Waiting
10. St. Jimmy
11. Give Me Novacaine
12. She's a Rebel
13. Extraordinary Girl
14. Letterbomb
15. Wake Me Up When September Ends
16. The Death Of St. Jimmy
17. East 12th St.
18. Nobody Likes You
19. Rock and Roll Girlfriend
20. We're Coming Home Again
With American Idiot the band Green Day has really produced something incredibly special: a punk rock opera using rapid and unexpected changes in beat and melodies to make great music! It's about one young man's experiences in today's America. (I won't spoil the plot for you.) The lyrics don't mention current president Bush; but the CD is also a way Green Day protests the Bush administration. (If you're a major fan of George Bush, you might want to skip this CD unless you don't mind their lyrics with the obvious political references. You'll need to decide for yourself.)
The set of songs is strong and really ROCKS! all the way through. The rock opera is embellished by the mini-operas of "Jesus of Suburbia" and "Homecoming." The lyrics are provided complete which is a plus even though they sing so damn well you won't need written lyrics to figure out what they're singing! It's tough for me to say if I have any favorite songs on this CD--they're all so damn good--but "American Idiot" and "Holiday" are especially solid pieces.
I recommend this album for GD fans as well as fans of rock opera. It's also great to see an album that fits together well instead of being the type of album that has only one or two songs that people like. BUY IT AND ENJOY! THESE GUYS NEED TO ROCK ON!!!