Weird title eh? I have been thinking for a while now and I don't know what to put for the title so this should suffice, I hope. :p
I was in Thailand for a week, Bangkok specifically. Was supposed to be a relaxation trip with my family but end up we shopped till we drop! And yes we did not miss out the temples there too. What happened to the good ol fashion holidays where people just sit and relax, do nothing and just enjoy the moments?
Indeed a lot had happened for the past few months, Good times as well as bad times. Only the bad times had caught up with me so much that I had to escape somewhere. So no one could find me. But alas, I was found...
I got this ticket to Bangkok since last year where Airasia had this promotion for free tickets. My sister was trying almost 24 hours just to get us a ticket to Bangkok. Initially we wanted Macau so I could go back to Hong Kong again. And yes, Hong Kong. I miss the country so much...
While on the plane, I thought this picture would look really nice. Hence I tried snapping a picture and Vioala! It looked terrific!
This is the new airport in Bangkok. Damn it look so nice especially with its lightings and so on. Yes a lot of people in there. A very busy airport indeed.
We got a very cheap tour for 7 of us to tour around half day in the city as well as 2 of Bangkok's famous temples. Cost us only 500 Bath. Great price eh? We had our own private van, our private tour guide and yes, no food...sigh.. but it still worth the money though.
First stop we went to this temple which i have forgotten the name, It has the famous gold buddha. Whole thing made of pure gold.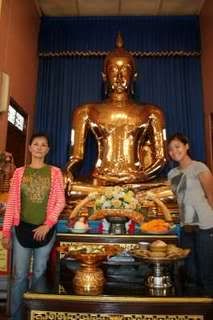 This is my mom and my sis, taking picture of this Gold buddha. Looks pretty shining isn't it? Amazingly, though it is made of pure gold, no one would steal it. In fact the door remains open throughout the day. I'm not sure about night though but yea according to the people there, No one would steal it despite the value.
Look at the statue's eyes!! My goodness they look so real! I thought it was actually a corpse in there but wrapped around in Gold. I spent hell a lot of time observing this statue thinking it might just move or something. Jump at you scaring the lights out of ya! haha
"My love, My own... MY PRECIOUSSSSSSS!!"
Well the next visit is called Wat Poh. It is a HUGE temple....and of course to have a huge temple, you need a huge name to tag along with it. Wanna check it out?? RM10 bucks to those who could pronounce the whole name correctly!!! haha
Ok the first 2 words I believe you can't see so I'll show it here. It's called Wat Phra Chetuphon. The rest you guys go figure.
Nice sight eh? It's actually a cemetary. Rich people would buy up these Pyramids (that's what they call it) and when they die, their ashes will be placed there. Sounds glamourous ain't it? Above their ashes, a Buddha will be placed in there.
This is the main hall where the Buddha is placed. Looks grand.
Last but not least, The sleeping Buddha. It is damn freaking long! Can't remember the exact measurements but it is an awesome sight!
HAHA My sister, A poser indeed. I am showing this picture it's not coz of her. But merely coz of of the background scenary.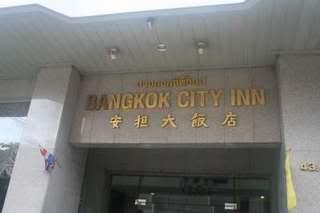 We stayed in a crappy yet dodgy hotel called Bangkok City Inn. Trust me, the place is real dodgy... But of course it's very near the main shopping area. There's a few though namely Gaysorn, Central World, Erawan, Siam Paragon, Siam Square, Siam Discovery and Siam Center. Yes indeed hell a lot of shopping malls around the area... Not the mention the girls there are like WHOAH!! unfortunately they can rarely speak english so there's no way we could communicate. So yea I kinda just let it go....
And yes september is the month of the king due to his birthday so every building you'll see a picture of him being displayed. This country really respects their king. Unlike our country where there are even folks who didn't know there's a king existed in the country! hahaha.
Oh yes speaking of English, they are so great till you can actually get this from a shopping mall...
And yes there are products that could put you in a worse situation that you are already at...
Girls, be careful with the products you use.
Lastly, The food there. Imagine, McDonalds with pork!! Yes we don't get it here in Malaysia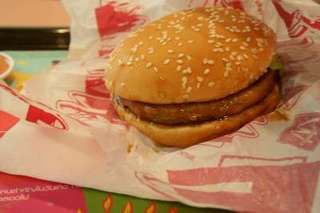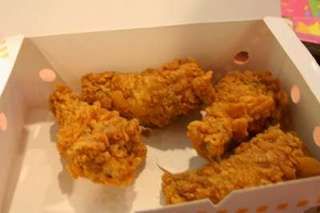 Chicken wings drumlet... Heavenly taste though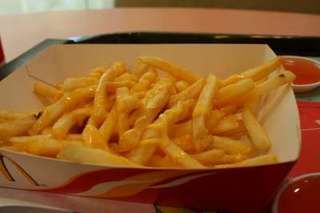 Cheesy Fries anyone?
Even the chilly sauce is different.
Double Big Mac!!!
And yes The KFC is fantastic too. Love the chicken drumlet though exquisite tast of hot and spicy. Without a doubt it puts Malaysia's hot and spicy to shame.
I know I know you guys must think I'm a crazy fella who loves drumlets. Well actually I don't really have much preferences but so happens the serving of drumlets are small, less filling and you can taste it's full flavour without getting full in the process.
Zinger burger. Yea it gets an award for being extra spicy. Damn it's good.
I had local food too but nothing to really brag about coz to me, it's pretty much so-so. I had loads to shop and of course loads to see. Will tell you more on my next posts. LOL the funny stuff...