This happened also on Friday. Dinner to be exact. I was asked by another group of colleagues to head to Pavilion (the new mall) to try out this particular Japanese food chain. Apparently they have this restaurant too in Singapore and the branch in Pavilion is the first in Malaysia.
Honestly, I thought the price of this place would be a killer. I did not bring much cash that day coz I was too lazy to withdraw money from the office ATM machine. It charges me RM1 coz I'm taking money out from a different bank. Useless policy...
Overall the environment looks classy. As usual, the moment you step in a Japanese restaurant, the whole place would
bark
greet you welcome. Designs of the place looks pretty much comfortable and it is comfy as well. :)
Not to mention the conveyor belt for the sushi dishes are very very long. and yea the varieties of sushi in there is WAY more than Genki or Sushi King. (I still like Oh Sushi by the way) Price wise for the sushi plates are reasonable. They have from RM2, RM4, RM6 and RM8. Same like any sushi stores except for Yo! Sushi. Trust me. NEVER EVER go there. It's in Pavilion too but the price is like CRAZY! Starting sushi price is from RM3, RM6, RM9. Even for a green tea they charge you for RM5.
So here's what we ordered...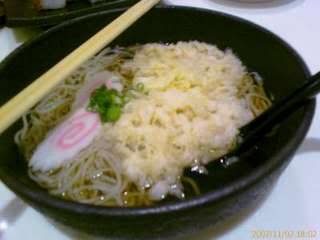 I ordered this Tempura Soba. Just normal plain noodles with a piece of Tempura flour on top. Taste wise is pretty good. But of course I would love it better if it's Ramen instead of Soba. This restaurant only makes Soba or Udon. Nothing more nothing less...
We got the Half Curry Udon as well. Not bad though. Rich of curry smell and yet not too spicy.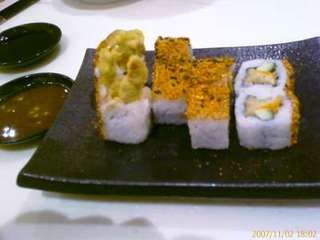 This is a whole piece of Soft shell Crab. It carries a little spicy taste and yes the crab is still crispy inside. Definitely a good recommendation.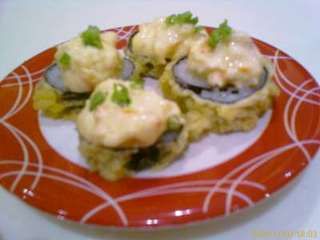 Oh yes, This restaurant has quite a lot of lobster salad sushi or hand rolls. Like this one above is called crispy salad lobster roll. Any of you have never tried eating lobsters before I think this would be a good place to start. Cheap and affordable Mwahahaha....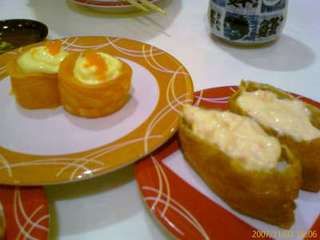 See the Inari beancurd there? It's filled with lobster salad filling as well. Dam I must tell you they taste good. The one of your left is Something Salmon something! (LOL sorry i kinda forgotten the names. All too fancy with em)
And the hand roll you see, it's another one of their lobster salad variety.
Lastly after consuming what I think is 1/4 of the restaurant, We found something in the menu that triggered our curiosity. The Tempura Ice cream..
I was thinking like "How the hell they're gonna fry tempura all over the ice cream?" Guess I got the answer moments later when I see they actually DID fry the ice cream. It's hot and crispy outside yet cool and creamy inside. Definitely a good try.
Overall the place makes a good dine out place with your friends and families. But if you want a romantic and quiet place, I doubt this would be ideal. You don't want to have the whole restaurant
barking
greeting at people when they enter
WHEN YOU TRY TO PROPOSE TO YOUR GIRLFRIEND
right? hahaha
After consuming all the food we had, It was the best time for us to start turning in for the night like this: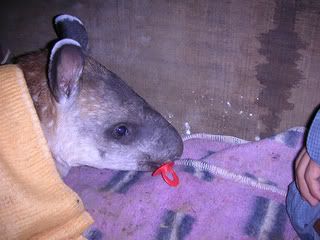 *Yawn*
Side Note: Apologies for the bad photography. I'm only using my mobile phone that day as I did not see such events coming that requires a camera. I mean c'mon! who would bring their DSLR everywhere they go right?