I'm going to refrain myself from buying the newspaper for a couple of weeks. All the Hoo-Haa about the upcoming elections and seeing all the favouritism of the media over the government is killing me.

And they say it's a fair vote. Face it people! the government wants you to think it's fair and all but after you vote for them, they'll not give a monkey's ass about your problems. All they want is to make you think that they care. BUT the ultimate question is DO THEY REALLY CARE???

OK I'm going to stop bitching about the election coz whenever I talk about them, I curse a lot and I get really pissed off about it. =.=

So this is my NEW proposal.....

I'm going to write an email to someone to ask him to come to KL and sign up to be a politian. And all of us would vote for him OK? He's a very great guy and I'm very sure that we would live in harmony and peace when he comes. I'll get to the points later, so without further or do, Let me introduce to you none other than......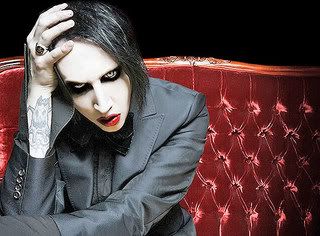 Yes... It is MARILYN MANSON!

I'm going to haul his ass over here to rally up a political run. And I do expect everyone to support him. Wanna know why you should support him??



He'll make this country free from poverty. Basically one of our goal in this coutnry is to relinquish the poverty rate in this country. Well with people all over the world coming to see him, I believe in a short period, we'll solve that problem now don't we?




We'll finally be out of corruption from the cops. Why? This guy hates cops and he will enforce all sorts of policy to destroy this cop corruption in our country.




Music lives free! As some of you know, our censorship board in malaysia had banned a huge amount of talented artists or music to come in to our country. It's a muslim country apparently and they have this sort of regulations and all. But no fear, Manson is here.




Manson is a satanist as said and he is dubbed reverand manson in the church of satan. It's not true as I have checked out the list of reverands in the church and his name wasn't in. Though he may be a satanist but he's sure as hell isn't a racist. I'm sure we would destroy this racism in this coutnry as well.
Actually there's more but I don't wanna take up too much of your time about this. He's a good deal to be considered about :p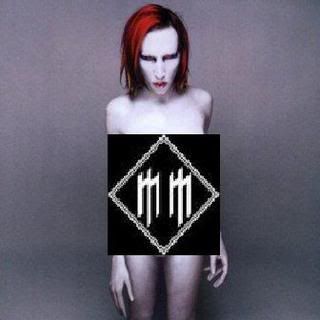 He even has his Logo and posters up already.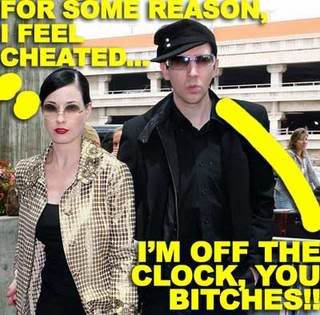 But of course like any other men, After work, it's all about his personal life :p



He can speak for anything. See, he looks so serious and dedicated.



And last but not least, He gives away his teachings via music. Nothing is ever better to present your points by music. Most effective in my most honest opinion.

Wahahaha so what are you guys waiting for? Are you in or are you out?!
p/s: I'm just bored and the blue monday syndrome is hitting on me again. Sigh...