As most of you have known, I have resigned from Prudential last month and hence for further information, I have joined a new company yesterday. The company's name is
Wappsol Solutions
. Sorry I was supposed to blog about my first yesterday but unfortunately I was kinda packed with briefings and I did not bring my camera along to take pictures.
Yea you know being a freshie is not easy and thus I can't just simply waltz around with my huge ass DSLR in a new office right? LOL So what was my solution? Aaahhh the power of Camera Phones.... Human are such great species huh? :p
Ok Ok. Let's start. When I first came in the company, I was presented with a Notebook. Well it's not a new one. My guess is somewhere a year to 2 years old. But it's all good. I mean I don't really mind about it. As long as I have something to do my work I'm all good. :)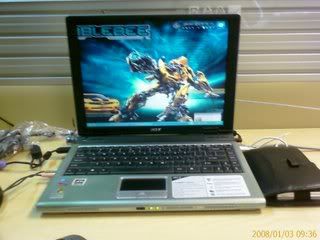 Can anyone guess what wallpaper is that? wahahaha

Then came to my surprise, I was given a BIG 22" LCD monitor to plug my notebook in. I asked why am i given a monitor, they told me so it was easier for me to work and see. Aww.... I'm being spoiled. Real bad some more
Cool huh?
I was also given a set of wireless keyboard and mouse yayy.... First time I've ever owned one of these gadgets...
Oh yes I'm also given a set of headphones so I could listen to music while I'm working :P
How cool is that huh? hehe
I never thought I would be given so much though. But yea there's always good and bad that comes around any situations. Good points for me are I'm given such comfort in my workplace, Gadgets and the place I'm being seated. Real secluded so I have enough privacy to blog.
The bad side of it is really petty. I don't have my own set of stationery :( I don't have a rubbish bin. Somehow their stocks ran out hahaha. The pantry is SUPER small!!! Umm... guess that's all Wahahahahaha...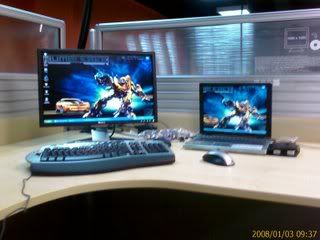 My entire workspace.
First day was good, with all the briefing and and laying out of work. I could see that a lot is being expected of me and yes I could see that there's a lot of things that needed to be straighten out and work on. Implementations and deployments... the usual. First day already put a but pressure on me already lol but it's all good. It's a good pressure thing. :p
New work environment and new colleagues, it's a new start where I have to work on my
EBA (Emotional Bank Account)
with all of them again. Took me 2 years to work on a good EBA basis with people in Prudential, guess it'll be the same here as well. I do miss my old work mates; but well, like I said before, Good things do come and go. It's merely how we treasure them and keep in touch that really matters. :P
Alrighty, next up would be my Resolutions for the new year! Ermm... keeping my fingers crossed that I would have drafted them out first :p Cya!