Happy New Year folks!!
Wish you guys and girls happiness and success throughout 2008. A new year as arrived and it's the best time to strive to start a brand new journey.
OK So as I was saying, What do we KL-ites do for New year celebration? Pretty typical I would say. Party your ass off, Getting drunk, Some tend to get laid and there's some homely people would choose to stay home to enjoy their comfort of their beds or TV or with their family.
I honestly thought of staying home and sod my sad life off :p but guess what? I ended up going out as well to be a party animal... So like any other regular party animals, What would it takes for us to get to our destination???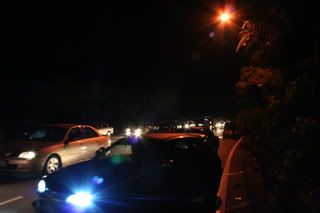 We tend to get stuck in massive traffic jams all over. But hey, my friends and I are the fools of fools. Know what we did??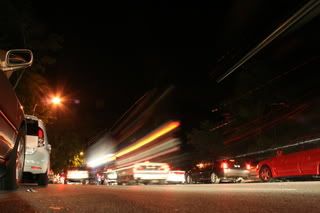 We decided to head up to Genting around 12am in the morning hoping to catch some cold breeze and some nice photo shoot as well.
BUT

We ended up stuck on the mountain road up to Genting. It's not easy trust me as the roads are steep and the breaks are really giving out slowly coz we had to crawl the car all the way up. Half way we decided to stop by the road side along a lot others who gave up coz their cars wouldn't gave in.
Not that my car couldn't go with the jam, Just that I wanted to go out for a smoke and some photo shoots LOL. So we stopped and had some stuff to do...
AFTER 4 FRIGGIN HOURS!!
we finally made up to the top to find that it's still pretty jammed up. It was so cold and foggy up there, Just my kind of weather... Well honestly, after the jam and all, the results was well worth it! Nothing feels more comfortable that achieving something that some blokes halfway down couldn't achieve eh? HA HA...
See the fog? It's crazy but heck it was fun as well. :p
One of our photographers who tells people he's not afraid of the cold but you know what?? He almost paid RM10 just to stand beside a herbal tea egg pot! wahahahaha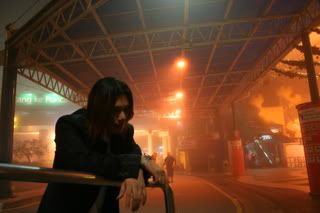 Me looking kinda exhausted for the long hour drive and it was already 3am. It's Waaaaaay past my bedtime...
We're like walking around and snapping pictures munching on our junk food and drinks. Basically normal stuff losers like me do wahahaha. The rooms were all fully booked (I predicted) so what do we do when we feel tired??? We sleep right?? question was where??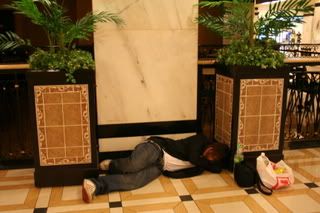 I saw so many people sleep on the floor like that next to the casino. Some even brought their kids, their babies along. Lay a mat by the floor and sleep there. Waiting for God knows which relatives of theirs to come out from the casino.
Seriously it's not a good sight to see so many small kids and parents sleeping outside the casino hence I decided not to take pictures of them. Kinda degrading us as
Malaysians
human....
On the other hand, Most of us were really worn out but the other photographer, tsk tsk tsk, he was as active as ever!. Wanna know why?? He was sleeping in the car while I drove us up. Lucky bastard... Besides that, what he does??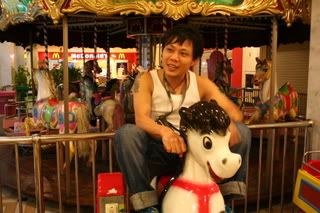 I rest my case =.="
Side note: No, there's no doraemon ride up in Genting....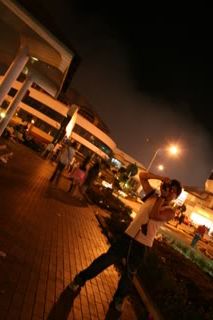 I personally kinda like this picture of him snapping pictures of me. I'm gonna get his pictures soon enough. *fingers crossed*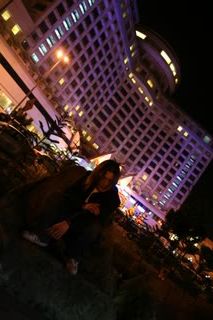 Another emo pic I asked my friend to snap for me. I didn't really enjoy myself to the fullest up there, I don't know why. I'm just troubled. Had too much in my mind that I need someone to talk to. Too bad I didn't get a chance to do that. So in the end I drove back with my friends reaching my place around 7 something in the morning. :p
Anyways, hope you guys have a great celebration for the new year..... Ciaoz...
Additional note: I'm starting a new job tomorrow so wish me luck...Somehow I don't really feel excited about the whole starting new job environment thing. Doubt I'll enjoy as much as being in Prudential. :p