Had a great day today. Was able to finally meet our famous Blogger
who tends to tell the whole world that he has circumcised his little brother
Jason Phoon
and friends.
First off I went to pick up
Kif
from my neighborhood and we drove down straight to the Curve to meet up with
Evelyn
. We're supposed to meet up at 12:30pm but guess what? Being a Malaysian we're proud to inform you that We always arrive out of time! wahahha I do too admit that I was running a little late and of course, outside of The Curve, I had came across some car problems...sigh.
So anyways, as we met up at Kim Gary, Evie told us that
Kurt
would be joining in as well. Cool huh? So yea there were like Kif, Evie, Farah, Kurt, Jason and myself. Cool huh? Thought so :P So yea as we arrived, Jason greeted us with his sexiest my-look-after-cutting-off-the-skin-of-my-dick smile on the camera... Don't believe me? Check this out...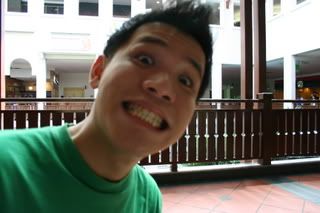 Hehe told ya....
I had to leave them for a while as I have an eye checkup appointment to go to. And yes it took hell a long time coz of some tests that I kinda find it pretty hard to get by. But yea the nurse was very patient and nice and she was like doing that eye test over and over and over and over again. phew~~
So after my eye checkup, I came back down to hang out with them all. And guess what? Yea pictures as usual LOL...
Kurt, Farah and Jason
Hot momma Evie~~~
We chatted and chatted for a while till Kurt, Jason and Farah had to leave coz they have other appointments elsewhere. You know, famous people tend to have loads of appointments, I understand. :P
So what did we do? Kif , Evie and I ended up walking Cine leisure while waiting for time to pass. wahahaha. We saw that there's this haunted house thing going on there but here's the catch. We need to spend RM50 on a single receipt so we could redeem 2 tickets to enter this stupid thing. Well you know us, nothing better to do and then what? Evie and I ended up in SaSa to purchase something....anything that worth RM50 (each) just to get like 4 tickets to enter the house.
Evie got herself Paris Hilton's Lulu perfume (bleah). I have nothing against the smell though, just the name is like as if saying that "Oh I'm a hardcore fan of Paris!!" And I got myself sigh... yet another perfume... Hugo Boss XY...
Thanks to Evie for her taste of fragrances she told me that this is the best so far amongst the ones I picked =.="
Yup we got the tickets alright, so we decided to head off the the haunted expedition of ours. Mwahahaha. Apparently they allow people to go in by groups. BUT, unfortunately, 3 of us are the only "group" they have. So yea we're all on our own...
Honestly speaking, I wasn't so scared about the thing until we enter this dark and ermmm dark tunnel... They closed the door behind us and I couldn't see a damn thing. Evie was gripping on to my arm and
YES!!!! SHE WAS FREAKING SHIVERING!!!
kinda got me scared too though hahaha.... We stood still there at the entrance, doors closed and locked behind us, while listening to someone talking through the sound system sinisterly....
I was like, "Hey if you guys are scared should we just turn around??"
Evie: You sure?? I'm a bit scared leh~
Kif: Yes this place is a little freaky...
Me: Well if you wanna turn around and go out, lets go... (yes thanks to evie's shaky hands I kinda lost my macho-ness =.=")
Evie: Let's go la...
She tries to budge the door open, but it couldn't. only a small gap was able to be made for her to call out........
HELLLOOO~~~~~~
hahahahaha that voice and that tone of hers was
PRICELESS
I tell you!
A lady opened the door and assured us that it was nothing and further down there'll be light so we could see... I told them I don't mind going as somehow I managed to gather my courage once again :P
So yeap, we went in... got through the whole course with people wearing masks scaring us till we almost shit in our pants... We made it through the exit door and guess what? The door was closed and locked! Some jackass sneaked next to me and gave me a scare and yes, in split seconds, I saw him, and I decided to let out a weird obligated scream.... and you know what???
EVIE SCREAMED AGAIN!!!
And yes another priceless experience from her!! wahahahahaha...
The door opened and there was this security guard standing in front of us and laughed his ass off! Probably there was this speaker outside the facility that actually records our conversations and screams =.="
Man I tell you that place almost killed us both in scares and humiliation! Walked out of there, saw a banner of that place and we decided to take a picture of it... :P
Evie and Kif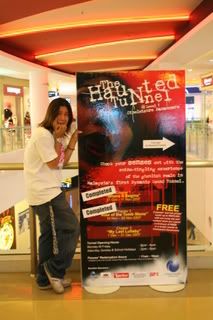 Myself trying to act scared shitless ~
Hehe time was up then and Evie had to get going so yea we decided to call it off and went back on our separate ways...What a day....
Side note: I should have brought in a voice recorder so I could post up what actually happened in there. Damn it was hilarious!