Yet another 2 more days marks the 3 months long wait to resign from my current company. I've been with Prudential Services Asia (PSA) for like 2 and a half years now. There were good times and yea there were bad times of course...
The hardest thing I face for leaving PSA is actually leaving the people there, not the company. Without these people who works in there, as in the non management staff, my colleagues, Life would really take a toll in me. In shorter words, I'll die of boredom and stress. SERIOUSLY.... I'll stress myself to death.
For over a year I have been having lunch with the same group of people, everyday. That itself had born a beautiful friendship between us. We not only spend time in office and lunch, We even go out together during off office time.
This post I would like to dedicate to
ALL YOU PSA STAFF WHO HAD BEEN WITH ME ALL MY YEARS WITH THIS COMPANY....
My Department: ServiceDesk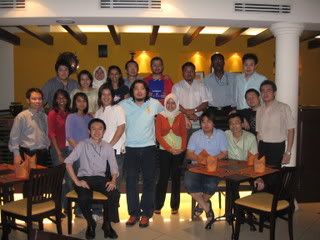 My Department: ServiceDesk
Thanks to all of you. A lot of you had known I had gone through a very rough year this year. Yet you still cared and stood by me when I'm down, Be my pillar to lean on, Be someone whom I could tell my problems at ease.
Company Outing @ Melaka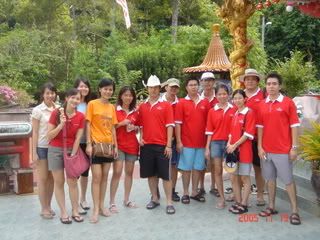 Company Trip @ Pangkor
Yes it does look like an emotional entry doesn't it? hehe. I'll try to loosen things up. Err... We'll still meet up as usual, go for drinks, movies and most of all... CARL's JR!!!! Dun care!! Do keep in touch and yes, I would continue blogging and make sure you guys do too. So I would have something to read all the time when I'm bored in my new job...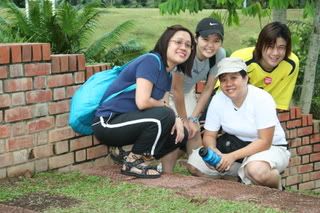 Cycling Trip @ Botanica Garden
Cycling Trip @ Botanica Garden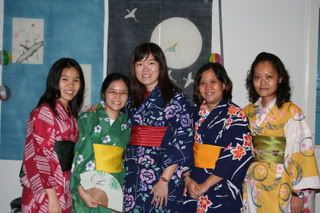 Japanese Day @ Jing's Church
Wilda trying to tie my hair @ Kuching
Cave pic @ Kuching
Eat out @ Old Klang Road