Note: HEAVY MUSIC LOADING. PLEASE TURN OFF YOUR SPEAKER IF YOU CAN'T TAKE MARILYN MANSON ELSE HIS MUSIC WILL DEVOUR YOUR SOUL.... :P
Marilyn Manson - Eat Me, Drink Me

Track Listing:
1) If I Was Your Vampire
2) Putting Holes in Happiness
3) The Red Carpet Grave
4) They Said That Hell's Not Hot
5) Just a Car Crash Away
6) Heart-Shaped Glasses (When the Heart Guides the Hand)
7) Evidence
8) Are You the Rabbit?
9) Mutilation Is the Most Sincere Form of Flattery
10) You and Me and the Devil Makes 3
11) Eat Me, Drink Me
This is the latest album of Manson's work thus far and the 2nd album released after he has parted ways with
Jeordie White a.k.a Twiggy Ramirez
. At this album,
John 5
is no longer in the band as well. Honesly, this album in a way was out of my expectations. I have this view that Manson's music has a heavy touch of industrial genre but this album has kind of gotten mellow.
There are some good songs like Putting Holes in Happiness, Evidence and Heart-Shaped Glasses but in a way, It doesnt seem much like Manson's best work. Songs in there are mostly pretty low on drums and clashes. Manson is known for heavy style of music but in this album, I don't really see it that way. But of course, It's Manson, So for those fans out there, You can go ahead and grab this album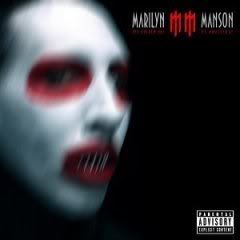 Marilyn Manson - The Golden Age of Grotesque (Japan Edition)
Track Listing:
1) Thaeter (Manson, Gacy, Skold)
2) This Is the New Shit (Manson, Skold)
3) mOBSCENE (Manson, 5)
4) Doll-Dagga Buzz-Buzz Ziggety-Zag (Manson, Skold)
5) Use Your Fist and Not Your Mouth (Manson, 5)
6) The Golden Age of Grotesque (Manson, 5)
7) (s)AINT (Manson, 5, Skold)
8) Ka-boom Ka-boom (Manson, 5, Skold)
9) Slutgarden (Manson, 5)
10) ♠ (often called "Spade") (Manson, 5)
11) Para-noir (Manson, 5, Skold, Gacy, )
12) The Bright Young Things (Manson, 5)
13) Better of Two Evils (Manson, 5, Skold, Gacy)
14) Vodevil (Manson, 5, Skold)
15) Obsequey (The Death of Art) (Manson, Skold)
Bonus Tracks:
16) Tainted Love
17) Baboon Rape Party
18) Paranoiac
This album I got it off eBay and all I can say about this album is AWESOME! In a way, I'm addicted to this album. This album unlike the above one has more similarity to Manson's work. This is WAY heavier than the above album.
It's pretty similar to Mechanical Animal. Both heavy with industrial genre. The AntiChrist Superstar is Manson's Album but heck, to me, This is good. But yes, I still like AntiChrist Superstar. (note that I am not an antichrist)
Great songs to look forward to in this album is basically This is the new Sh*t, mOBSCENE, (s)AINT and Slutgarden. These songs are great to hear. Heavy though but well, What is Manson if it ain't heavy right?
Manson works together with John 5 and
Tim Skold
. Hence, that explains why this album has a different touch. Skold makes the editting or the music much at a very different pace. In a way, he's like Twiggy, these guys are the main foundation in Manson's music. Kudos to MANSON!!!