Sorry for the late entry. I have been rather busy today as it is my last day in work hence I did not have much time on my PC to write about today's review... So let's proceed, Today would be just 1 review as I did not have much time to review other albums. hehehe Sorry yea?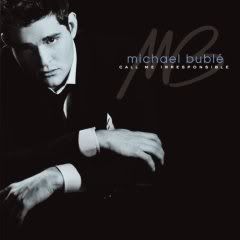 Michael Bublé - Call Me Irresponsible
Track Listing:
1. The Best Is Yet To Come
2. It Had Better Be Tonight (Meglio Stasera)
3. Me And Mrs. Jones
4. I'm Your Man
5. Comin' Home Baby (duet with Boyz II Men)
6. Lost
7. Call Me Irresponsible
8. Wonderful Tonight (duet with Ivan Lins)
9. Everything
10. I've Got The World On A String
11. Always On My Mind
12. That's Life
13. Dream
Though the ghosts of Frank Sinatra and Peter Allen still battle for his soul, in his new CD "Call Me Irresponsible" Michael Buble has finally found his own voice and personality. For those who doubt that his channeling Harry Connick Jr. channeling Frank Sinatra schtick is done, jump to his rendition of the Sinatra signature song "That's Life" and listen to his unaffected vocal amid the combination of both gospel choir and big band.
Looking for other sources of inspiration has led Buble to Billy Paul for "Me And Mrs. Jones" which is done in a more matter-of-fact manner than the hand-wringing original; to Jack Jones for the title cut "Call Me Irresponsible" which is more laid back than the original despite the big band arrangement; to Eric Clapton whose "Wonderful Tonight" becomes a lovely Latin love song with assistance from the great Ivan Lins; and to Willie Nelson whose "Always On My Mind" is a beautiful song which gets the beautiful voice it deserves. A wide variety of sources and styles that Michael masters and makes his own.
Two polished diamonds that cement the new identity are "Everything" in which all previous influences are absent and it is Michael Buble emerging as his own man and the tender and laid back "I'm Your Man."
Special mention must go to the arrangements which swing when they need to and modulate for the tender moments such as "Lost." The upbeat arrangements of "It Had Better Be Tonight" (which can only be described as big band Italian salsa) and "Comin' Home Baby" (with it's backing vocals from Boyz II Men) are just brilliant.
A must for fans and a step towards world dominance by this Canadian superhero, this is a wonderful leap forward for an artist who in the past has been weighed down by his influences. But as he warns us all with the CD opener, "The Best Is Yet To Come."
Bonus:
Some people use to ask me what do I do in work? Wanna know the answer? Here goes...
Sleep on my desk whenever I have the chance
Act like a ghost all day
What a great life huh? No wonder this guy leaves his work... Anyways yea it's just random pictures A friend shot me while I was getting ready to leave office for the day.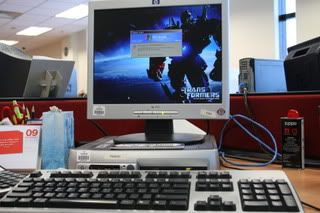 This is my workstation that I work on. Cool wallpaper huh? And yes, my desk is kinda messy so pardon me... :P
There you go. The phone is important to me for work coz I get loads of calls to work on this work on that bla bla bla all day long. And there goes my name above to prove that this desk is mine. hehe
So That's it for today. Enjoy yourselves for a good weekend and yea yea! Merry Christmas Everyone....