Like what I promised, I would share out something funny I found out about life as a tourist in Bangkok.
First in Bangkok was rather simple as we arrived at night, so We didn't really go anywhere but stayed in the hotel room, besides going out to the roadside for normal hawker food. Seriously, it's really troublesome to order your food as those people by the streets, they don't understand much of English. Signs or
hand job
hand language needed to be used to get the job done. But asking them to collect money is another whole hassle itself.
When we asked for the bill in English, they walked away from us! it's like as if they don't want our money or something. So well, me being the smart ass asked in Thai "Kao Rhai?" (
Trust me, that's the only thing I know about Thai language
) The uttered something in which now it's my turn to not understand them... Sigh...so what I did was handing them 100 baht and some coins I had in my pocket. The guy picked the note and some coins and he left...I was like o.O? but oh well it's only RM10 so what the heck right? LOL
2nd Night, My family and I came back to the hotel after a full day of touring and walking around. I took a shower and then went down to grab a
tuk tuk
And told him I wanted a massage and he brought me to this place called....hmmm....forget it, I can't remember the name. It costs me 500Baht (RM50) for 2 hours traditional Thai massage. It's paradise for me! In KL, We pay like RM80-RM100 for an hour of some sort of crappy Thai traditional massage...Apparently...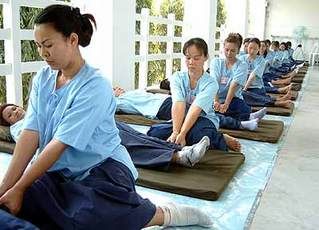 This is how massages are like in Thailand, unlike Classy rooms in KL but crappy massages
So I thought I could trust that tuk tuk guy so I told him to come back to me the next night to bring me elsewhere. He said sure, he'll take care of me...at first I was wondering what he meant but then latter, I should have known... =.="
Next night came, The driver was on time. I was impressed though as you know, we come from Malaysia and no ones in Malaysia is punctual!
Driver: Where you want go?
Me: I don't know. Just need some drink. Maybe a pub or something just for some good drink for the night.
Driver: OK I take care you. Come in.
Me: Where we going? I don't want places with
lady-boys
Driver: OK No laydee-boy. I bring you nice place.
Me: Well OK...
He brought me to a place where I find quite dodgy. Worst of all, There's a freaking cover charge and they freaking checked my ID card.. Slacking part was when I did not bring so much cash in case of being mugged. Best part of all, That place don't accept credit cards...only Cash~ Well I had enough but just not enough to get me drunk or woozy LOL
I went in, not bad interior deco though. Funny thing is from the entrance to inside, I only see men and no women...Somehow I find this strange. Went in, saw a stage and some chicks DANCING......NUDE!!!!!
I was like WTF?! I'm in a strip club or something! Place is quite dark so I can't really make out the faces inside, So What I did? I went to the bar, in which my back is facing the stage ordering my drinks. Honestly, yea I'm not so keen about the stripping part as I'm only there for the drinks, so heck with it, The beer's cheap so it's good enough for me.
Soon a waitress tapped on my shoulder and asked me to check out the stage, I was a little blurry and turned my head and guess what I saw?
2 People.....
Doing......
NOKIA
~~~~ wanna know why?
YES! They're performing sex on stage!! I mean C'mon!! I only have this perception that we only get to see 2 people having sex is either on a television screen or maybe a monitor screen. NEVER LIVE!!! As shocking as I was hehe i watched a little here and there. Learning some moves you know what I mean? LOL You never know when you might need some extra skill sets right?
I tried hard to look at their faces to see how they looked like. It's dark so it was kinda hard to make out but I saw the man looking something like this...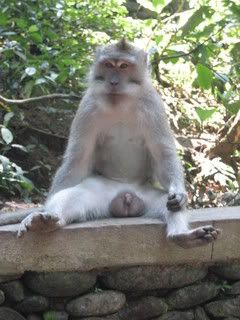 Yes with his dongles dangling there as well... LOL
After that scene where than man shoots his load, Other girls came up and strip again, and yea it became a normal strip club again. Well not really I think. maybe for them is normal but for me?? Let's list down the activities and you judge for yourself...
1) Woman putting ping pong balls in their vagina and shooting it like a 12 gauge shotgun.
2) Woman pulling ribbons (
very long
) out from their vagina and do some sort of Olympics ribbon dance.
3) Woman pulling some sort of rubber coloured frills from their vagina and dance around.
4) Woman putting an empty coke bottle in her vagina and pee out coke. Yes it's black and no I didn't verify it.
5) Woman putting a pen in her vagina to write some sort of greetings.
Well after these, I had it. I had to leave. It was getting way out for my kinda preference. Honestly, I almost puked thanks to the gruesome sights and some beer in my belly. I left with a hurry got on the tuk tuk, and he brought be back. He asked me whether I enjoyed? well I just stayed quiet and I chose NOT to trust him anymore LOL....