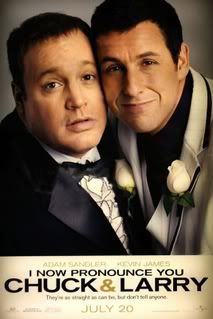 I went to watch this movie last night after dinner with my God-sister. Well we have nothing better to do after dinner since we're both bored and *ahem* single...so we decided to catch a movie since we've not been going out together for a very long time.
Yes I love watching Adam Sandler's movie and his previous one "
Click
" was great. Well thanks to Kate Beckinsale. But the movie is great overall. :)
I dare you to say she's not hot!

Well, this movie however took another queer weird spin of events. It's my fault actually who decided not to read the synopsis about this movie and grabbed us tickets for it. I mean I was like, C'mon! Kevin James, Adam Sandler and Jessica Biel, How bad could it be?
Turns out to be pretty bad!
This movie is about 2 guys, Well partners in the fire department with different walks of life, Kevin's wife passed away and he couldn't move on in life with his 2 kids and Adam, having the life of a celebrity and have loads of chicks. Kevin saved Adam's life in once incident and soon asked Adam to help him out in some of his financial issues that requires them to sign up as domestic partners then soon after MARRIAGE!
The whole movie was talking about these 2 people trying to look gay to the whole world. Acting gay, doing gay stuff and well so on. Don't get me wrong, I have nothing against the gay community but I'm just afraid of them you know? Well thanks to one of my experiences in Thailand way back years ago, I kinda picked up the fear along the way. :)
Can you imagine, most people would use their hands to close their eyes while watching horror movies but I on the other hand, closed my eyes when they are about to kiss!!! I mean C'mon!!!
All in all the movie have had me a couple of good laughs as well as it got me really freaky that time. My god sister was laughing at me more than laughing at the show =.="
Oh yes, and the only parts where I enjoy in the movie was whenever there is Jessica Biel. I'm telling you, she is getting hotter and hotter...Don't trust me?? Check this out...
Yes a hottie, I know. I'm sorry, I know it's pretty typical about guys blabbering about the actresses or the hot babes in movies. I don't do that. Well not all the time. But looking at her is the only comfort I get in this movie so cut me some slacks will ya?

Guess in the future I would really be careful on what kind of movies Sandler would produce. Moral of the story, Hypnosis is REALLY important. You don't wanna end up in a movie that you least fancy. hehe Cheers.