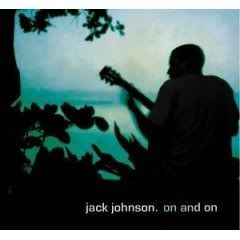 Jack Johnson - On and On
Track Listing:
1. Times Like These
2. The Horizon Has Been Defeated
3. Traffic In The Sky
4. Taylor
5. Gone
6. Cupid
7. Wasting Time
8. Holes To Heaven
9. Dreams Be Dreams
10. Tomorrow Morning
11. Fall Line
12. Cookie Jar
13. Rodeo Clowns
14. Cocoon
15. Mediocre Bad Guys
16. Symbol In My Driveway
Jack Johnson has a very mellow tone that is very enjoyable to listen to. I was actually kind of surprised by how calming and relaxing this music is. This music is really hard to categorise, because it touches of many different genres. It's all blended together, and I can't really fit it into a category and blatantly label it "rock" or whatever. Sometimes there's even a Hawaiin vibe to some of the songs (which is probably because Johnson is from Hawai'i). I think that's part of the charm of Jack Johnson.
The whole CD is almost completely played on acoustic guitars (so if you don't like acoustic stuff, I would not suggest this!). Jack Johnson is great at writing riffs for guitars, and he has some mad guitar skills!
The highlights of the CD included "The Horizon Has Been Defeated", "Taylor", "Gone", "Cupid", "Dreams Be Dreams", "Holes to Heaven", and "Cookie Jar". Some of the songs are shorter than the average 3 to 4 minute song, but hey, they still sound good, so it doesn't matter.
For me personally, this is a lot different from other things I listen to. (Toad the Wet Sprocket, matchbox twenty, Better Than Erza, Chevelle, etc. has a much different vibe than Jack Johnson!) I think that even if you are used to listening to a "louder" kind of rock, you would still like this album. It's just plain good, so go out and get it! Everytime I listen to this CD, I find another reason to like it. I can't describe how great it feels to listen to "On and On", so you'll just have to buy it for yourself and find out.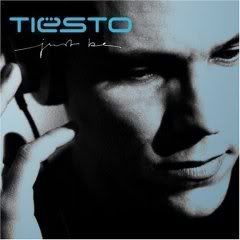 DJ Tiesto - Just Be
Track Listing:
1. Forever Today
2. Love Comes Again (feat. BT)
3. Traffic
4. Sweet Misery
5. Nyana
6. UR (feat. Aqualung)
7. Walking On Clouds (feat. Kirsty Hawkshaw)
8. A Tear In The Open
9. Just Be (feat. Kirsty Hawkshaw)
10. Adagio For Strings
I got this CD at tower records the other day. It's a special 2 Disc CD and was imported from Taiwan. Apparently he did a Taiwan version and published this album worldwide.
Tiesto, one of the world's most popular DJs, tries to broaden the playing field with his second artist record Just Be. Mostly self-written (except for the
BT
collaboration "Love Comes Again" and a remix of Samuel Barber's "Adagio For Strings"), his disc goes for transcendence right from the start with an earnest, uplifting string arrangement on "Forever Today." He keeps reaching, alternating dense-but-danceable new material with a few recent remixes ("Nyana" and "Traffic"), and vocalist Kirsty Hawkshaw provides a blissful vocal on the soaring "Walking On Clouds." Yet dance floor Nirvana stays well out of range. By focusing so heavily on trying to evolve, Tiesto neglects his bread and butter: the build. Live, crowds froth at the mouth for his next beat to drop, and while that hot energy is not necessarily the goal here (check 2003's mix record
Nyana
for that), a better flow would help this record considerably. Though offering ready-to-remix parts, the whole of Just Be is too impatient to sound deep and forgets to let the peaks come naturally.
But overall the whole album isn't that bad after all. It has its hiccups yes but well if you're a die hard fan for Tiesto, I suppose it's going to work for you as well.
*Note: Some people had complained to me that my reviews are slightly too long therefore it made it hard for people to go through. So this time around, I'll make it just as short as it can be. :)