Hey, first of all let me wish all the Malay peeps out there Selamat Hari Raya! Do have a great festive celebration and of course when you
balik kampung
, do drive safe. Stop being a Rush Bug and speed your ass home. Just drive moderately and considerately k?
I'm trying to change the trend of this blog for a bit. During the comings of weekends, I'm going to post up some reviews of some albums I'm listening to and of course with some critics. In case some of you don't know, Music is more like a passion to me than just hobby. I can't live without em and of course I could never imagine how life would be like without music. So here goes...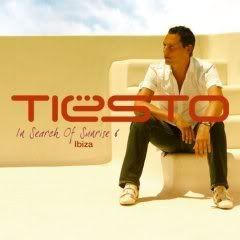 Tiesto - In Search of Sunrise 6
For all you trancic fans out there, Here's a new gig you could get your hands to. The new series from Tiesto is finally out.
I got em 2 days ago in Mid Valley. I was kinda surprised it came out so soon. But anyways, Since I have collected every series, there's no reason I don't grab this right?
Beginning with cascading ocean waves, the placidity of Tiesto's sixth In Search of Sunrise installment - this time, centering on Ibiza - establishes its calm with neither hesitation nor much effort. Ibiza, the `White Isle' of trance music, is the most idyllic locale for Tiesto and his fans to seek the sunrise after a beautiful night of music and dance. By the album's location alone, I was confident from the onset that this mix would be something that would at the very least rival the best of his previous ISoS efforts; I don't think my assumption was wrong, though it was made in haste. Disc one begins with paced, melodic and beautiful trance - ideal for watching the dark night sky begin to fluoresce at 5 A.M. as the sun prepares its rise to the heavens. The types of tracks Tiesto chose to compile for the first disc all encompass a singular, `creamy' quality; truly, the music itself evokes images of white sand and sapphire waters calmly lapping at one's feet.
Disc two was less of a surprise to me, coming from Tiesto, but it begins and ends better than the chunk in the middle which, to me, sounds like it could have been pulled from any recent Tiesto album and inserted in place of ISoS 6's contents and no one would be the wiser. Opening with "A New Dawn" > "What You Need" > "Trozitos de Navidad" evokes images of ska-dancing on beaches and arms waving in the air; typical clubby atmosphere, until I realized that it all seemed subdued in a really nice way, as if someone had pressed the slow motion button and the track layering and sequence had forever captured me in that enraptured moment, arms high, feet suspended above soft white sand in ecstatic mid-leap.
Yet another masterpiece by DJ Tiesto.
Matchbox twenty - Exile on Mainstream
I got this CD was coz it has both new and old songs contained inside. Well another reason is I like listening to Rob Thomas' voice. He has in a way very unique voice. But of course there's a whole lot of musicians out there who has great voices, but just for now, I'd prefer some softer music. :)
Problem with them is that ever since their first 3 albums, they took a 5 years holiday from the industry. Kinda thought they have left the industry but when they return, it's merely a "best of" album with only 6 new songs inside. I'm not saying their songs are bad in this album but it's just average.
The whole reason I got this album was because of the older songs. I could get the first 3 albums but I'm not a hardcore fan and I only like selections of their music.