DJ Tiesto - In Search of Sunrise Asia
Track List:
Disc: 1
1. Feel the Sun Rise - Banyan Tree
2. Wasted - Andy Duguid
3. Yohkoh (King Unique Original Mix) - King Unique
4. Space Katzle (Jerome Sydenham Remix) - Motorcitysoul
5. Feel the Rhythm (Ton Tb Dub Mix) - Three Drives
6. To Forever (Moonbeam Remix) - Rachael Starr
7. The Storm (Inpetto Remix) - Jerry Ropero
8. Get Lifted - Kamui
9. Ride (Tiesto Remix) - Cary Brothers
10. Denial - Airbase
Disc: 2
1. Blossom(Lounge Mix) - Steve Forte Rio
2. Crossroads - Zoo Brazil
3. Kenta - Beltek
4. Rush - Sied Van Riel
5. Driving To Heaven (Mat Zo Remix) - Tiesto
6. Just a Thought - Carl B
7. Melkwig - Kimito Lopez
8. Whenever I May Find Her (Joni Remix) - JPL
9. Casa Grande - Estiva / Marnix
10. Wounded Soul - Existone
I am a huge fan of Tiesto's ISOS series, but was not so thrilled by the last release. With ISOS 7, I am glad to hear Tiesto back on track. ISOS 7 offers the same two-disk format as ISOS 4, 5, and 6.
CD1 features the usual melodic vocals, with perhaps a bit more power behind them--check out for example "Feel the Rhythm".
CD2 is pure instrumental trance, one of the best ISOS mixes yet. Beyond "Get Lifted", I don't think ISOS 7 has too much of an Asian flair, but Tiesto was obviously inspired by the locale. Get your hands on this one. You won't be disappointed.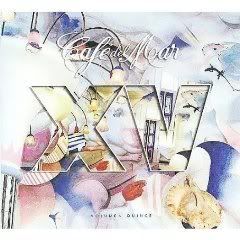 Cafe Del Mar Vol. 15
Track List:
Disc: 1
1. Sun is Shining - Reunited
2. Wake Up - Melibea
3. Relax - Ludvig & Stelar
4. Avantguard - Jazzy Pecada
5. Life is a Wonder - Nera
6. Night Wave In Ibiza - Soula & Angela
7. World - Eleni
8. Smiling Faces - Clelia Felix
9. One Step Away - Villablue
10. Tren Lento a Juliaca - Orgatronics
11. Stop - Lento
12. Alright - Soulchillaz
13. What Are We Living - Paco Fernandez
14. I Will Be Waiting - Gary B
Disc: 2
1. Summer Memories - Dab
2. Breakaway - Alexander Vogele
3. Eternally Yours - Gary B
4. Under My Star - Gelka
5. Tarifa: Colores En El Viento - Alexander Boschi
6. Closer - Koru
7. Perfect Days - Ensoul
8. Mi Keny - Aitor Escobar
9. On the Shore - Santa Cruz
10. Charade - Duo Mecanico
11. Strangers No More - Soul Electrico
12. Jesus In the Sun - Yuliez Topaz
13. Indian Moon - La Caina
Disc: 3
1. Sunset People - Steen Thottrup
2. Eternity - Stigma
3. Sandbank - Tape Five
4. Higher - Rue Du Soleil
5. Gale In the Waterglass (My Love) - Kosta Rodriguez
6. Sax 4 Sex - Alejandro De Pinedo
7. I See - Kotik
8. Junto Al Mar - Schwartz & Funk
9. Fly Away - Almadrava
10. Aire - Zahara Music
11. Closer - The Birdstones
12. Sueno De Una Gaviota - J.R. Haim
13. Trocadero - Fernando Lozano
14. Interface - Ataln Chill
15. Skyline - Elmara
Well, Cafe del Mar Vol. 15 has finally arrived, and boy, I'm still breathless. Vol. Quince is becoming or showing a trend in CDM, as which its heritage is now smothered in a cinch of flamenco. The trendy Collection this time features a gigantic volume of exclusives that perhaps other compilations can only dream of. It compiles 3 CD's, for a total of 43 tracks of exclusive content, new, and inspirational.
First, lets delve into what this compilation offers into this new age of chilled music. Like Vol. 13th, it begins its journey into the world of guitar strings and a melancholy rhythm called "Sun is Shinning", by Reunited. When the track finally ends, you'll be transported into a world of sunshine, bliss, and dreams. I closed my eyes, and that one track alone rescued me from my own darkness. The track alone made me a believer of what was to come, and lo and behold, I was already in heaven. Beautiful rhythms are to followed throughout, all in English this time on all three disks, and although I wished there was a couple of tracks in Spanish, I think CDM finally has nailed what I think is their best work to date. They have compiled a history and a long series into a classic work of perfection. If you think you heard a better compilation in the past, guess again, because CDM, Vol. 15 has just raised the bar. The closest compilation that I think can at least compete is Hed Kandi, with their Serve Chilled series, but their last effort, "Kandi Lounge" just doesn't hold a candle mainly 'cause it was a more of a throwback to chill, with many tracks offering a current but retro feel to soulful and orchestral sounds. It's something different, but lacks that worldly feel CDM is normally known for.
Hence, CDM, VOl. 15 succeeds with a shuffle of exclusive electronic grooves that are easy listening and go beyond the stripped down acoustic bliss. To appreciate their beauty, these tracks really need to be listened on a high end sound system. Here, every nuance will be captured, every note, every breath of the artists perception. The world of CDM is filled from elements of lounge, soulful jazz, Balearic electronica, and chilled Latin to form a cohesive production of smooth, trendy tracks. These tracks are of the highest quality, and when you reached track 6th, of CD 1, CDM will make a believer out of you once again in case you lost faith in the series. Soula & Angela, 'Night Wave in Ibiza" features sweeps and angelic voices sprinkled throughout to sweep you off your feet, and port you to a place strong with catchy synth lines and vocal hooks to last a life time. Its percussive elements are well contrived for a visit to a music that is forgiving at its most seductive. Vol. 15th in my most humble opinion has no competition. Its strength and beauty lies in the fact that it combines the best of its own series, including a touch of Cafe del Mar, Classics. On par, it's a touch of of Hed Kandy, Cafe del Mar, and at times, it feels like Hotel Costes from its early days.
It must be mentioned, however, VOl. 15th also fixes the monotony that plagued Vol. 14th which had a few too many instrumentals that sounded alike, and was too heavy-handed in its latin flavor, under-sizing what could have been an excellent compilation. Vol. 14th was strong, but was a step down from the stellar Vol. 13th, which was highly refined, and for its time, offered a compilation that was hard to beat when it debuted. Again, Vol. 15th follows its tradition, and returns making a big impact on the world of Ibiza. Bar none, Vol. Quince surpasses Vol. 13th, by its sheer weight, originality, its warmth and quality of sound, and consistency. It is the best compilation of the year, featuring sophisticated vocals, strong lyrics, and well-produced electronica for the children of the ages. Worth every penny, and one of the few compilations that demands your listening. And like the last track on CD1, by Gary B, 'I will be waiting' for its next installment. Cheers!!! Vol. Quince is here to stay. Just awesome!!!