These are the pictures I took on food that I had in Penang. Damn the food is good. Oh ya, This is my first time to Victoria Station as well. Apparently someone cursed me
BABI HUTAN
when I replied an SMS saying I'm eating there...
Tried the pic with flash on, obviously flash somehow sucks.
Much better eh with just appature without flash.
I ordered Victoria Steak and it's soooo goooooood....
The previous picture I took has my shadow in there so this is a better one.
The next day while my friend had to go work, I walked all the way to Bukit Jambul complex. I was so hungry yet I'm actually on a minor diet. No Carbohydrates!! So I went Coffee Bean for something light.
I ordered mocha ice blended. See no whipped cream as well.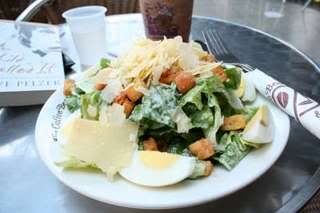 And the ceaser salad I somewhat crave. Don't look much light ceaser salad but whatever you know? I was just too hunry to think.
Later that evening for dinner, My friend brought me to Queensbay Mall for dinner. A restaurant called Breeks. Queensbay Mall is sooo Huge! bigger than any shopping mall you been through in KL. But the food in Breeks, I guess you could take a rain check next time if you wanna go there. I had this fish thingie I cant remember the exact name.
As you see there's spaggethi there as well. Since I had salad only for lunch, I allowed myself to devour a little sin. LOL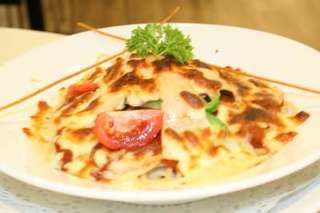 My best friend however ordered some kind of pasta. Looks weird I tell you. Just somehow the camera made a good picture of it.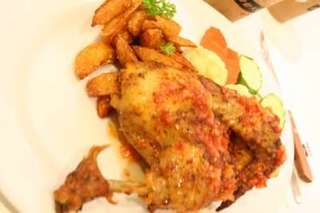 Another friend of mine had Some sort of chicken chop. Looks delicious and it's rating somewhere 7 out of 10 I would give them.
The next day, I told myself, That's IT! I need to have some REAL food in Penang else it don't mean I've been there. So we went to the Ever famous Laksa Stall near the Ke Lok Si temple in Ayer Hitam. Hot day I tell you, not the best time to have something so spicy. I seriously sweated like a pig.
Laksa for some who don't know, is a kind of noodle, mixed with soury and spicy flavour. It also has bits and pieces of fish meat in it mixed with prawn's paste. One of malaysia's finest creativity of food if I should say so myself.
This is how a bowl of Laksa looks like. Yea I know, to some it does not look nice, but really you ought to try it if you ever get a chance to.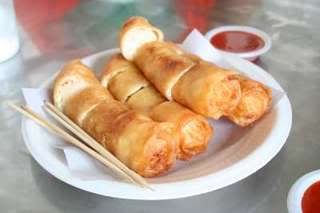 We ordered friend spring roll as well.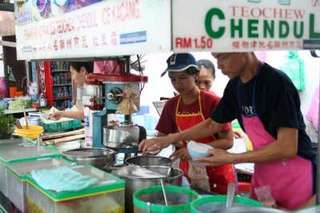 Later then, I told my friends, Since the weather is so hot, why not we have some cold desserts to cool off ourselves? I'm thinking, Penang Road's Cendol!! Cendol is an icy dessert with coconut essense? and some brown sugar with some greenish wormlike flour jelly and red bean. LOL somehow I'm not doing a very good job at describing the content of a food. I'm a IT Specialist and a System Engineer, not a chef so cut me some slack ok?
This is how Cendol Looks like. Good stuff you know. LOL
Later that night we had Grilled fish by the seaside. I'm sorry I forgotten to take pictures of the food. We were too concentrated on the food that we start to get our engines working the moment the food arrives. LOL Thousand apologies folks.
The next day, before I'm about to leave Penang and head to the airport, My friends said they ought to bring me to have some famous Char Koey Teow a.k.a Fried Noodles. I was asking whether is it the ever famous Sisters' Char Koey Teow and they said there's a place much much better than the Sisters. So well Here we go.
The picture above is another stall selling spring rolls, something like earlier before. I just have to try it. LOL Unfortunately, Ipoh's Kong Heng has the best spring roll I've ever tasted. Will take a picture of it next time when I have a chance to be in Ipoh again. :)
There you go, The so called better than the Sisters' Char Koey Teow stall. Umm, there's 3 sisters there too. I think they're trying to steal the original sisters' trademark. Check out the price. For a large plate, I could get 2 LARGE plates in KL already. It was good no doubt. But sorry I had nothing to compare it with so I won't know exactly how good are they in Penang.
As you can see, The older sister is the one frying and cooking and the other 2 is helping with customers and with the ingrediants. 1 thing I don't really like though, There's a stall there and we as patrons goes in the shop to sit. Normally cooks like them would take our orders and bring it to us while we sit and wait. Their's is a total different approach.
You wait, queueing up, pay when it's your turn and bring it yourself to your table. So much for customer services eh? Not to mention the queue was long. But I guess it's all in the good name of experience. LOL That's all I have for now. Will post more pictures of Penang soon enough. Stay tunr k?