Recently there's been a lot of talks about this thing called Eye on Malaysia. Everywhere I go I'll hear people talking about it, be it in work, out in the mall, hanging out with friends, even at HOME!
So my usual self is kinda curious so I had to see what's this thing all about, though I know it's only a huge bloody ferris wheel. BIG DEAL! But of course the sole reason I went there was to take some nice pictures with my new camera and try out on some night photography skills.
Here's some pics I've taken last night...
Viola~ Visit Malaysia 2007. Not much of good responses I heard but what the hell...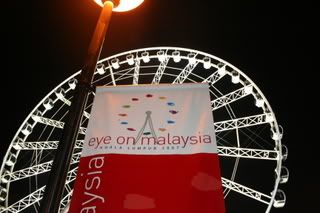 I find this picture kinda nice. LOL but I'm not sure whether it's a good angle or not, What do you think?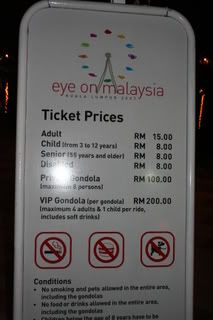 The Price List. Didn't see this coming! hehe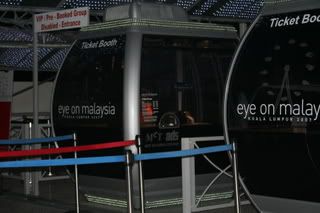 This is how the ticketing counter looks like.

Well RM15 bucks, I guess for an experience it's not too expensive, so I kinda took the bait LoL

The platform where people board their gondola

The bad thing about the Gondola is it's closed and no open air for people to take pictures. Plus it rained that evening so The windows of the gondola was wet and when pictures was taken, u can see the drops of water around. But of all the disappointment about it, I got this nice picture where I focus on the water but with the twin tower as the blurred background. hehe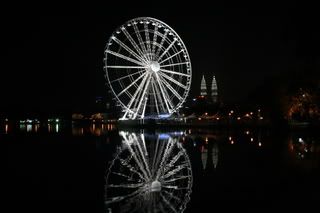 A picture of the whole scene and KLCC by the side.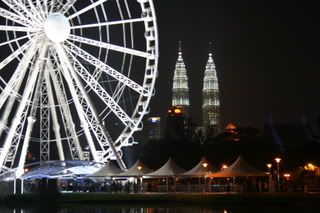 Slightly zommed to have a clearer picture.

I had to lie down on the floor to take this shot. People looking at me but I was like, What the heck! I'm here to take shots so screw you if you don't like me :p

I like this picture. With the moon in the sky so bright plus the wheel does make it look nice.


Overall, I guess the place is quite nice. Isnt much crowd around maybe because it's the weekdays and it was kinda late. It's definitely a nice place to take pictures in the night but the sad part is u cant take the city light pictures inside the thing! hahaha