Yup, as what the title says. I have a new family member at home. Let me introduce you to... Copper!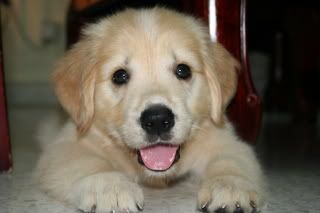 Yeap. He's a 2 months old Golden Retriever. I spent more than 200 bucks on him since the day I got him; buying food, vitamins, vaccinating him, toys, shampoo bla bla bla...
He's a very playful dog plus he really loves the attention given to him. Training him wasnt so hard as you really need to have patience. It took me 3 days to toilet train him and it's somewhat 70% successful already. He knows where to take a dump but unfortunately, he still pees around once in a while. LOL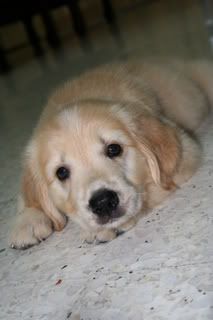 He's a little tired after playing for so long.

Don't you think his eyes are beautiful?

He's trying to wonder what am I holding and flashes of light keep coming out of me. Mwahaha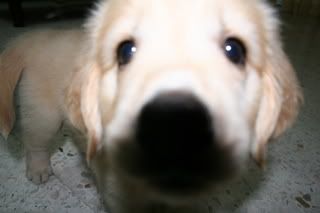 My very own "The DOG"

So far he has a very good relationship with everyone in my family member Plays around a lot and loves to hang out around where people are around.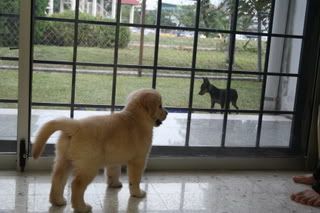 After he spotted JD (miniature pincher) outside of the house, he just can't stop barking! I guess he has not seen a black coloured dog in his life before, kinda shows that he's a little territorial; which Golden Retrievers are normally not so. hmmm.....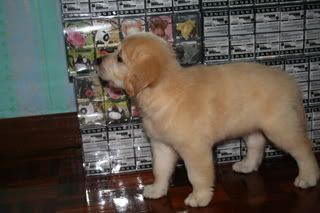 He's trying to figure out what is the whole stack of thing doing in my room. These are keychains by the way. I love the way his curiousity shows.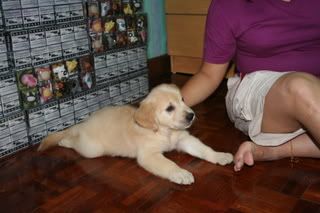 Sitting and enjoying time with my colleague,
The Pig
.
Never too young to start training eh?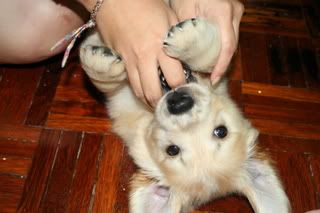 LOL he just loves playing.