I finally found it! The pet dog of my dreams. A golden retriever! These pups are only 6 weeks old and ready to be sold. These cute little rascals are from a champion's bloodline. Plus selling for only RM1200!!
What should I do? Get it? Or not? As far as I'm concern, it is true that I don't really have time to take care of it as my job is really taking a lot out of me. But then again, normal champion bloodline golden retrievers costs around RM3800~
Doesn't he just melts your heart?
So cute right?
There, this is the one I'm planning of getting. He has a brown colour coat instead of those creamy ones.
Most right is the one I want!
Creamy coat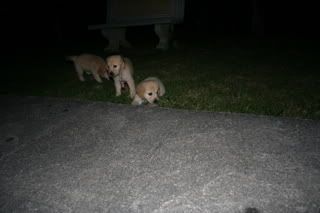 Aren't they adorable?
And palyful too!
Both of these are the cream coat type
Yup. My brownie!
Yea I gotta say that dogs do tempt me a lot!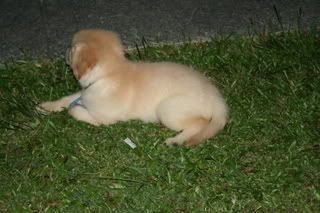 Yea this is the brown one. He enjoys being around me, even as you see my leg there, He always follows me around!
So how? Should I get it or not? Was seriously thinking of putting down a deposit then get it end of this month. Any comments guys?
Oh yea, apart from the one I chose to get, there's still 2 more up for grabs, do let me know if any of you are interested so maybe we can get together and ask for a cheaper rate from the seller. mwahahaha