A couple of weeks ago, my ex-colleagues organized this eat and sing your heart out thing with some of us close friends. Reason being is that they want to catch up on old times since most of us don't work in the same organization no more.
But the actual fact is, they just want to get together and show off to each other how well they can sing after the past few months we did not meet :p
Here's some pictures of the event to prove what I've stated.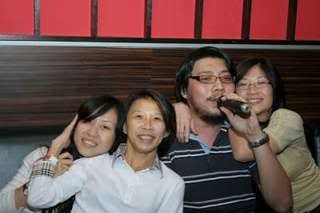 If you do notice, it's the same guy that sings over and over again. Fact is this guy, Jordan, doesn't really sing from the start. But... after a couple of "drinks", the true colour reveals :p Also notice the girls that was surrounding him while he sings. You would assume that he's quite a charmer when he sings?
R.O.F.L... boy have you been taken for a ride. First picture shows that he can't read chinese lyrics but can sing em, so, our dear friend, Connie reads the words by his ear while he sings it out. Latest and most effective way to teach someone how to read chinese :p
2nd picture is basically camwhores lol.... and 3rd is While Jordan sings,
WE DANCE!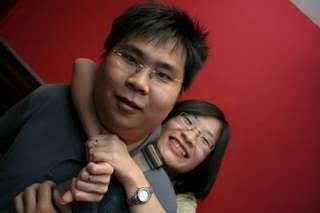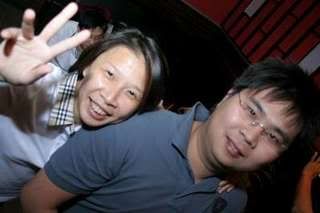 Yeap another bunch of camwhores. It's like this: once there's a camera around the room, people will somehow chase after the camera for shots to be taken :p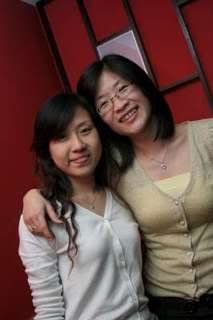 See what I mean? How cute!! 2 hot chicks some more. But...sorry guys, they're taken. I just don't wanna get your hopes all high up the sky :p
OK. Here's another deception. This is the 2nd time we gather together for a karaoke session. There's this promotion where we get was the birthday promotion. We get some drinks and a bottle of wine and a cake in the package. So since Connie have a membership card for the said karaoke, she gets to become the "birthday girl" for the night! This is the 2nd time and it's still Connie's birthday. 1 year with 3 birthdays (including the real one) is a lot to take in my honest opinion. hahaha...
Last but not least, this is the whole group picture we took together that night. Don't see me in the picture right?
OF COURSE I'M NOT IN THERE
.... I'm the camera man :p
Somehow they told me not to put these pictures that I have taken to
Facebook
... Should I? hmmm.... *evil grin*