Last weekend we had an event called.... PC FAIR!
I actually don't understand what's the fuss about. It took me 2 hours to get from Subang to office in KL that day. I was so frustruated of the traffic.
So after working, my colleagues and I decided to attend the PC fair. It's quite a fair distant I must say as it took us a good 20 minutes to walk there. The jam was so bad that we ended up walking. sigh.
Here are the pics...
This event is being held in KLCC convention center and when we reached the area, there were these big signs for us to follow to reach the exhibition.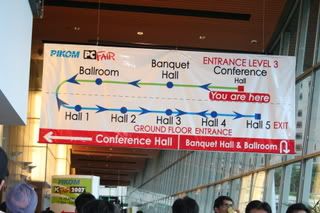 And of course there's these huge banners hanging around.
The place was so packed that we're like sardines in a can. I mean what is so great about this fair that everybody seems to get their precious time off just to be there?
Of course i have to give it to them that there's so many brands available in the fair that sometimes we ourselves didn't really see. Here's some...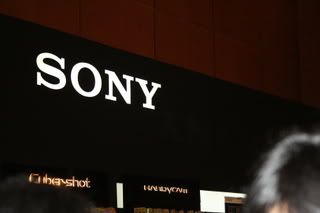 There's Sony
There's Edifier, a brand for computer speakers. There's a lot others too that section. All speakers. The room itself is like a disco with multiple sounds and songs.
All time favourite Samsung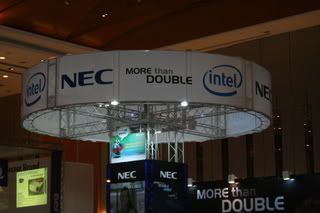 NEC as well. Kudos to their decoration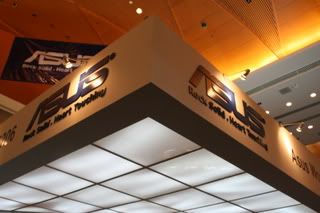 Asus was there too.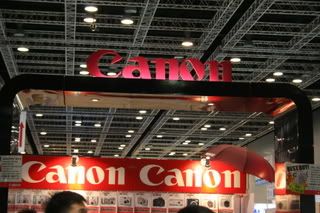 Canon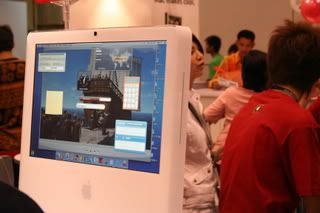 Apple was there too. My all time favourite.
Nikon too. It's PC fair... or Computer fair. I wonder what's a camera product doing there. Never the less, the deco was cool...
Apart from the decorations, There were models as well. Not much but a handful. I wanted to take some more pictures of these lovely thing but unfortunately I can't. I had to buy a printer for my aunt so ended up me carrying the thing all around. It's so bloody heavy and that encumbered me from taking more photo shots. So here's the few I only have.
Whoah~~ check out them outfits! Speaking of fantasies, we have our very own here. Don't ask me from which company. I can't remember. LOL
This girl is very cute. She was passing flyers to everyone until she saw me taking my camera focusing on her, She immediately stopped and posed!
This girl is like as if going to eat up her customer. LOL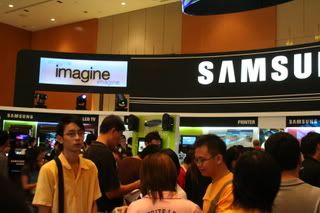 The guy in yellow. I'm not sure whether is he a model or what but he is definitely staring at me. Later only I found out that he's a boyfriend to a colleague of mine who so happens to be there as well. Hahaha...
Last week, I was talking to my colleague about the PC fair and here was how it went:
Me: This coming weekend is PC fair. Wanna go?
Colleague: I guess so, If you and AF going, I'll be going.
Me: Yea then join us. We'll be going. Besides I'm going to visit my sister who's working there.
Colleague: What's she working there?
Me: A model.
Colleague: Model? wearing skimpy clothings?
Me: Yeap I guess. Selling products lo.
Colleague: Models sell products wan meh? I thought they only there to
pai leng
?
Me: Nope. In PC Fair, models also sell stuff.
Colleague: No la...models are different
Me: How so?
Colleague: Promoter are the ones who sell stuff. Models are the ones who ask people to buy stuff.
Me: ????????
Note: pai leng means decoration purpose in Chinese
Wanna check out the crowd?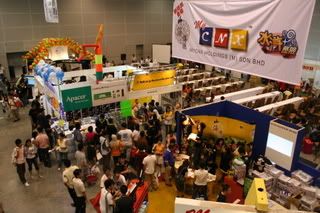 Overall the crowd was crazy. Plus the price is no difference at all! It's the same price you buy any regular day. The only difference is the free gifts they MIGHT throw in, the models, the humidity and the human traffic jam...