I'm pissed. I dunno why but all I could think of is I'm pissed. Plus side of it is I have no inspiration on what to write at this entry. Thanks for
Chienne
for showing me the "light" I found a new obsession to comics....Got a few good ideas on how to manage my anger though.
1) Case Study A
You know, there are times where you would just wanna tell somebody off. Like, "Go fly kite, lah~" or "Blow Me~" or "Suck my Balls", Here's a fresh new prespective...
Cyanide & Happiness @
Explosm.net
2) Case Study B
When you wanna pick a fight, many a times we'll doubt whether we can beat this guy up or not. Often we're afraid that we'll get our ass smoked instead of kicking their asses. So this is a new way to solve such problems....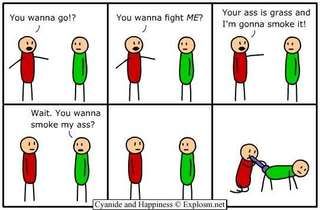 What you guys think? True or False?