Finally, I got myself a new camera. I've been doing a lot of researches on which one to get for quite some time now. Finally narrowed it down to 2 models. First is the Nikon D40 and the second is the Canon EOS 350D.
Been doing loads of price checks and research and seems like Canon has much better to offer in terms of functionality. Plus now during this festive season, There was a couple of promotions here and there but unfortunately, not for Nikon. So I ended up getting the Canon EOS 350D
There's lots of functions which I still have no idea on how to use. But I guess there's always room for improvements eh? These are the few pictures I took with it as some test subjects. LOL...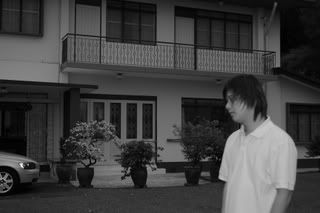 I'm trying to look well, somewhat this pictures represents the blankness within me. The black and white shows the paleness of my life and how much I yearn things to change.