First and foremost, I need to apologize for the slow update. Well there's pretty much nothing I could do since the internet line is slow slow after the quake in Taiwan. The line was so slow till I could not even upload any pictures. So, a Blog with no picture = Boring Blog.
OK! Back to my point. Remember the previous post i wrote about Joy, the dog who was brutally beaten by a group of merciless Indonesian workers? Well there's this group called the Independant Pet Recuer whose one of its members found Joy in an abominal state. She brought Joy ti the vet immediately for any surgeries or treatment. So there, Joy had her lower Jaw removed and was now healing up pretty well.
This group I mentioned had organized a gathering for us common citizens to pay Joy a visit a few weeks back. It's incredible I must say as there was a swarm of passionate and caring people came to visit her and bought her gifts and so on. I kinda forgotten to bring my digital camera with me so I didn't had much options but to use my 2MP PDA phone camera. Damn the quality was bad. But anyway, it's better to have some low quality pictures rather than not having anything at all right?
Here goes...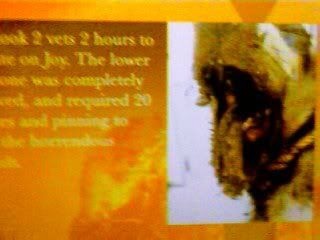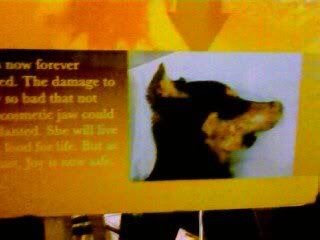 So many people was gathering around Joy, touching her, petting her, showing concern to her and so on. Amazingly she still could bring herself to be aroudn humans again after what she experienced. I felt her body, no doubt her heart was pounding like speed of a bullet but she still loved to be around humans.
I did took some close-up shots of her. Imagine this picture, Everyone was using their top-notch camera with fancy stuff like flashes and so on but i had to use this bloody piece of camera that does not even have a light!
Not so cool using it around high tech camera men/women. haha but then who cares? I came for the dog and not them! So here's the close-up shots.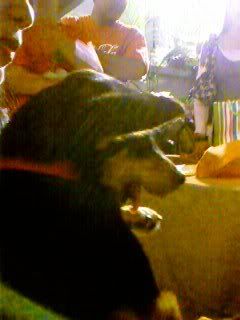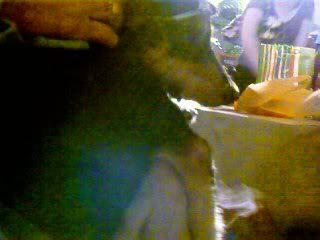 As you can see, She barely have any lower jaw. We're trying to look around for a vet who could work a prostetic lower jaw for her. so if any of the readers here knows someone like that, Please do keep me inform. I don't really worry about which country the Doc is from as we would be able to work something out.
Before I forget, I have 2 pets that needed re-homing. So if anyone is interested, please drop me a mail with your email on it for correspondance so I could hook you up for a viewing session with the pupps.
They're cute, fluffy and for a baby pup like them (2 months) They're quite obedient. Kinda tested them out myself hah!