Last weekend, Prudential had its company outing at Malacca, a bloody old historical town! Though it may sound old but I tell you, the town is a BOMB! Food is great there for one. Plus all the histories behind every corner, every building, every monument, every tree...errr.. a little way out. OK back to topic.
Let's see, Our trip is separated in to mode of transports. 1 is the coach and 2nd is your own car. Obviously I chose to drive there since it's nearby and i get the comfort of my own car. The moment we reached there, we gathered at the poolside to have lunch.
Tapir and I
Khai Yuen and I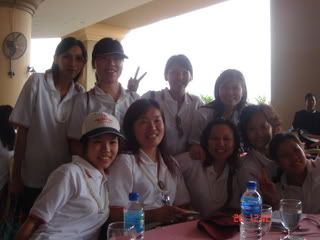 Group pic
After eating we went to the pool side to take some pics and hanging out waiting for the Treasure Hunt to start.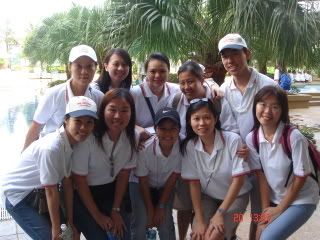 And a group picture.
So anyways, we got to the treasure hunt later. and when we started moving out, it started to RAIN! heavy ones! and we had no choice but to go for it as well. We were only given a plastic raincoat. which made us looked really sucky.
The girl on the most left is d Birthday Girl today. She was not spared as well! haha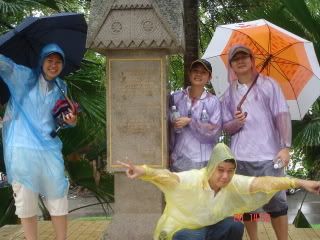 Yup. I'm trying to act cute....again
Well I had all my clothes wet, plus my shoes are soaking wet! I have even squishy sounds coming out of me every step I take. And of course it was not a comfortable hunt.
So after the hunt, we went back to our hotel room to rest up a little and get ourselves ready for the Annual Dinner event which themed: Night of the Stars. Sounds nice? wait till you see the pictures below.
Piggy and I
Sharon and I
Wilda and I
Chiu Yen and I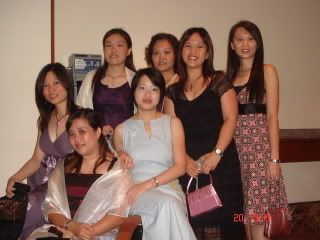 Ladies group pic.
I tell you, I've never had taken so many pictures before in my entire life! I somehow felt i'm a whore (camera) that day. LOL! Everyone was like wanting me in pictures. I'm not the kind of person who likes to take pictures. Friends who knew me since young knows that. But that night was a little exception. haha
Mun Fong and I
Jin Jin and I
Jing Jing and I
Lindzia (Pru Queen Award winner) and I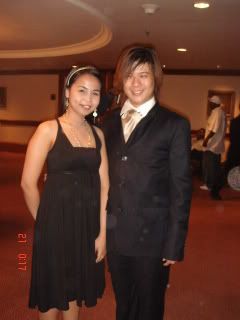 Intan and I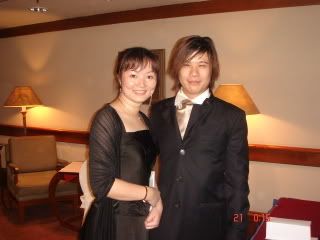 Fanny and I
See what I mean. Too many Pictures taken. My eyes cant adjust properly!!
Backdrop of the stage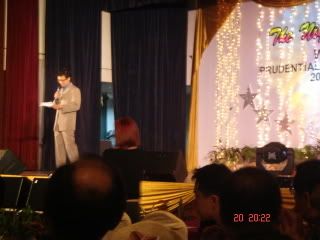 Our emcee for the night, Mr. Ken. Funny fella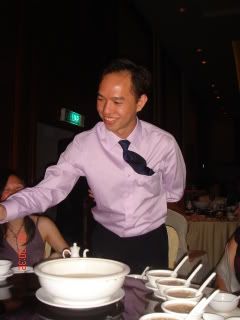 Khai Yuen being a gentleman serving us FOOOOOD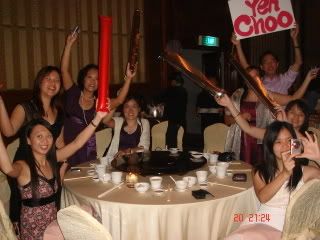 Our very own cheerleading squad

Yet another group picture
The Dishes: (
Warning! Incomplete
)
The first dish I totally forgotten to snap the pic. Well this is what's left of it.
Sharkfin Soup...

Roast Chicken! damn that was delicious

Butter prawn...yummm...

No more pics. the rest I totally forgotten to take the pics. lol, will complete the set once I get it off from some other colleagues.
So basically that was the night of the stars. Everyone dressed up so nicely that night. Simply couldn't guess who is dressing as which celebrity; but guess what they labeled me? a Vampire! hahaha. It's an European Classic style of dressing!
So we retired for the night soon after. Woke up early next morning for breakfast, I totally skipped breakfast as I couldn't wake up! was too dead tired then. So later we checked out from the hotel then started walking around for food! and of course sight seeing.
View of a building (I dunno the name) from my 14th Floor hotel room
View of Malacca Town
The Famous Kota A' Famosa of Malacca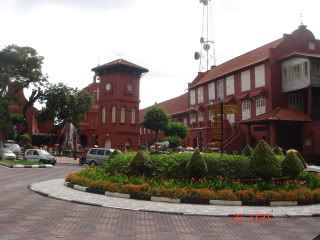 The Red Clock Tower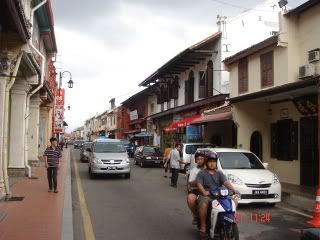 Busy Sunday Street of Jonker street
Nice Building eh?
They still have this ancient looking door all along the street! These doors are like ANCIENT!
Dunno what temple, but it is a temple. ;)
So we went to had The famous Chicken rice (ball rice)
This is some delicious stuff I tell you. If you're ever in Malacca and never have this, it simply means that you've not been to Malacca. Then we had Laksa and Cendol: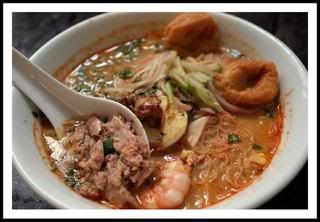 Malacca famous Laksa
Cendol
Food was good and the place is really cool! Though it rained and humid sun and rain and humid sun a few times a day, overall the trip was a blast. Though tired, but still I enjoyed it. Not much on the cam whoring part ok? lol...