I gotta admit, Kuching has loads of different taste of food there. To be honest I did not expect the food there would be so GOOOOD! And yes good as it may sound, There's some food after eating over and over again, I think I have filled my quota of that same food for one whole year...
So here we go, The food of Kuching.....
Sarawakian Laksa for breakfast! That I tell you my friend really spice up your day!
Later in the afternoon we went to this shop that sells snacks
The famous Teh C Special from Kuching. Look at that 3 layer. Bottom being brown sugar, then milk then the tea itself...looks special but honestly I can't taste the difference...sigh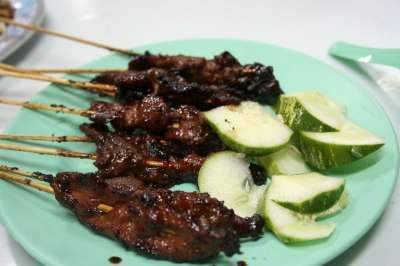 Pork Satay!! OMG PORK SATAY!!! and it tasted DAMN GOOD!!! Normally we only have either chicken or beef. Thanks to this country which is a Muslim country, Pork is not widely sold here unless it's Chinese stall. Even KL does not have pork satay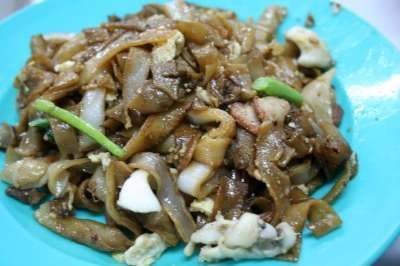 Looks like any regular fried koey teow. Well that's what my friends said, it's different...but when I put it in my mouth...It tastes the same...well a different feel coz I'm in kuching. but yea it tastes the same as any regular fried Koey Teow
Tomato Koey Teow that Wilda ordered and longed to eat...Well I'm not a fan of tomato so i skipped but I did took a little to try though. Taste different from the one I had in Hong Kong hehe
Now this is something we don't see everyday. Salad Chicken rice... Yes it's very dry and well I ordered coz the friggin' friend chicken kept calling my name to get it....sigh
The foo chow Kam Pua...We had it in Sitiawan too. But this one looks so different and so...Plain.. but never the less, it tasted marvelous... :)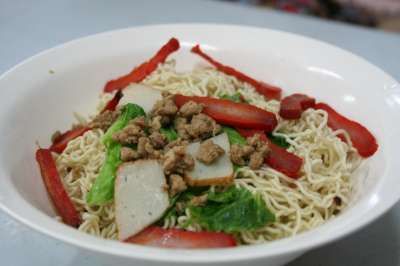 And the all time famous noodles of Kuching... Kolo Mee.... I tell you...4 days I was there, we tried 5 places for this dish. Imagine, eating this everyday!! It's nice honestly....VERY NICE in fact but the thing is I think we overkilled the food....I had enough of Kolo Mee for the year 2007. Maybe next year we'll try again. LOL...
So that's it for now. Will try to find something to post soon enough. Next month I'm going Bangkok. Hopefully I'll get another good trip with loads of pictures and events to write up.. LOL Stay tuned...