FIRST TIME! Yes indeed it is the first time I've travelled to our country's eastern state. The state of Sarawak, well mainly only Kuching. Thanks to
Wilda
,
Nite
and I had a place to stay...FOR FREE! Mainly there's nothing much to do there but to eat, eat and eat. Not much of nightlife there but plenty of nature. Which is good for me coz I'm still sick of nightlife (Confession: I did visit those places thanks to
Samantha
) And yes I do love nature though some people said to me since I'm a smoker, it does not justify that I'm a nature lover....
First off, the nature side of Kuching, I visited a place called Bau and it has this beautiful man-made lake called Tasik Biru (Blue Lake) Thanks to Sam's peaches,
Kenny
, we're able to get to this place. No doubt, it was a mistake coz he doesn't know how to get to the caves so ended up there to ask people around on how to go. hahaha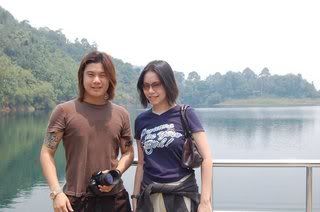 Note that all 3 pictures is of me and Samantha. LOL I don't know why but the picture of just the lake itself without any humans in it just don't look nice. Don't blame me, not my photographic skills sucks but it just don't look amusing enough.
Finally, we arrived to the Wind Cave. Looks pretty normal from the outside but you gotta pay to enter. sigh.. It's not expensive thank goodness but the trip some how inside just don't jive with the amount we paid to get it....No lightings, no guides, and worse of all, a Closed path so we can't enter further...Bleah!
Yes I know...I'm moon-ing.... Shaddap~ LOL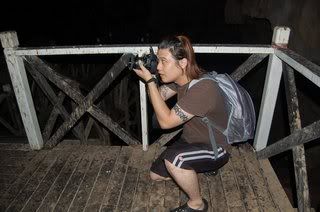 These pictures were taken without me noticing until I see a DAMN bright flash at my eye. OUCH!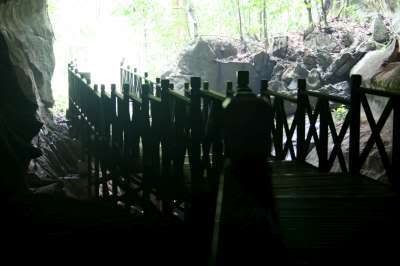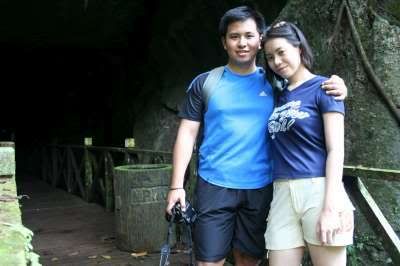 Sweet couple eh? HAHA....
Noticed anything wrong with the sign board??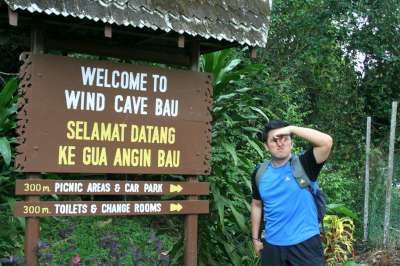 I think this pictures speaks better for itself. LOL
2 Camwhores and me joining in...DAMMIT Calvin!
Well once we're done we started heading off to the next cave which was the Fairy Cave. That cave is for free! But the maintenance of that cave was so-so. No lights at all and we mainly depended on our small little torchlight and our so called sonar reflects....haha
Yea a poser.....BUT not my fault! I was totally unaware that this picture was taken....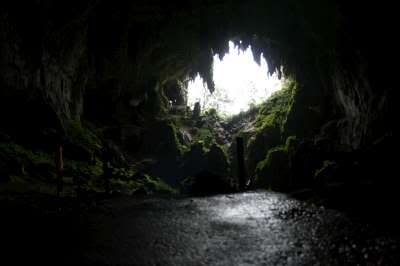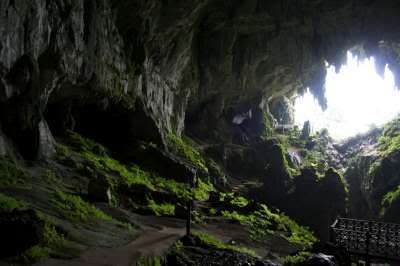 Beautiful right? I mean the cave's view? All we have was that "window" there for light. Though it's not THAT bright coz that day it rained cats and dogs when we're about to enter this cave. But of course by the time we're done taking pictures, the rain stopped! hehe What luck eh?
Well that's it for most of the adventures we have. The rest is all walk, eat, walk, eat and walk and oh yea, we ate again! I feel so fat after this whole trip....
So then the next day, I was dumped by my travel mates to walk around town with Sam and we obviously had some fun! hahaha and here's the random pictures she took of me. Umm, It's very rare that I have so many pictures of myself. I gotta admit, I'm not photogenic at all but Heck I'll just post it up anyways.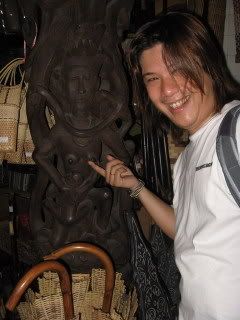 I was forced to do it!!! HONEST!! All Sam's fault!.. Bad Sam!! :P
Well that's all for now. I'll post up about the food in Kuching some time soon k? Till then, Cheers!