Some people asks me, why did I not introduce about myself to my readers. Does my readers know who am I? Well honestly speaking I have no answers to that questions. Some of them knows me, some seen me but mostly don't know me.
As I have thought through, Actually I have already over 3600 visits from all over the world. Sadly I don't even know more than 5 of them. A guy from Spain was kind enough to drop by a message on my message board saying his greetings. I was just hoping that the rest of you who reads my blog, Please just drop by a message or a comment so that I would know that someone had read it. Really, it'll do me a great favour so please do take some time to give me a shout out. Be it a good or bad comment, it's alright. As long as I do know your existance LOL
OK here goes, I'm 26 and I'm an IT engineer, a.k.a computer geek. But I would like to acknowledge the fact that though I may be a geek but not completely one coz first of all, I don't look like one (I hope). I love music. any kind of music except R&B or Hip Hop is fine with me. From Frank Sinatra to Joe Satriani to Korn to Slipknot to Tiesto or Paul Van Dyk, I'm all into them. :P
Wanna know why I don't claim myself as a Don't-look-like-a-geek guy? Coz I have these...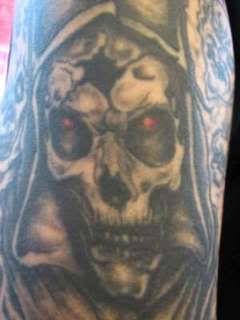 That's right, I have tattoos. Well just both arms for now. I'm working on a backpiece though. Did mine from Zoo BodyArt, found by a close friend of mine, Frankie. Hmm, Maybe I would write something about his gig to promote body modification! hahaha. Yes I have piercings too but just the ear lobes. I'd prefer tattoos to piercings, Don't ask me why, I just don't know hehe...
Last week when I was in JB, A friend of mine asked me to try out those coloured contact lenses just to see how I look, The first picture is from FreshKon. I only placed in 1 eye as I wanted to do a comparison, My blue eye look so dead. Trust me if you see me in person with this lenses on, I look very very very different. And yes, I look like an ass in this pic. I didn't expect him to click on the camera so soon... >.<
HaH! This is from FreshLook and somehow it was easier to wear. And of course the colours look more natural don't you think? And it's blur and YES I LOOK LIKE AN ASS!!! Damn maybe I'm just not photogenic enough! Someone Help ME!!! How to post for better pictures? HAHA..
Grey eyes baby. LOL which one is better? Blue or grey?
OK back to topic, As you can see, I'm the kind of person who would like to try anything jsut for the sake of experiences. Maybe it's coz of my childhood. I was so held back then that I wasn't really allow to do anything I want. Imagine, younger days, your mom would let you go out to the nearby field and play with other neighbour's kids. I stayed at home. Mom said, "A Lot of mosquito. Later you dirty...Don't need la...."
That kinda made me a homeboy. LOL but not for long. I got my breakthrough of freedom when I was 14 and hence I changed very drastically. I guess I shouldn't elaborate so much here. But to keep a long story short, I became really bad and now I'm trying very very hard to be someone better. Somehow I think I made it. Not all the way but most of the way~ LOL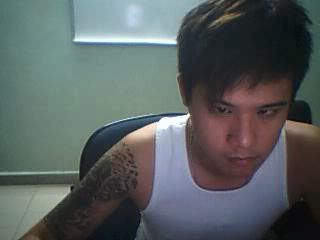 Lastly, this is how THIN I was.... Now I'm getting fatter. On a diet now though. Somehow it works but in a very slow pace. All thanks to the beers I had in Hong Kong, they contributed a lot to my tummy =.="