Matta Fair 2007 had just ended last night. Guess what? I got myself a 4d/3n trip to Bali, Indonesia. What was attracting me was the Place they allocated for me to stay.
Seminyak Villa
!!
The whole design of that hotel is spectacular! I mean it's really ideal for some relaxation. In Malaysia there's always this tradition that the pictures comes out WAY much nicer than the actual thing itself. For example, food and hotels. Let's just hope this tradition is not adapted in Bali. haha. Yes it's quite inconvenient coz the place is like a good 10 minutes walk away from town (according to the travel agent who happens to be a Balinese) Walking in the night is fine but during the day time, guess I'll probably get a cab ride to town instead.
Wanna know why I got fooled into this deal?? Here's Why!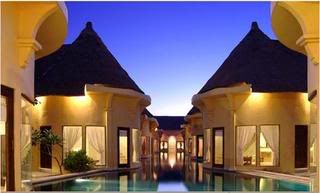 Can you resist?! OMG it's so freaking beautiful!
Basically you stay in a villa, you have your own private rooms, private swimming pool, private area and well the whole part is private mwahahaha...
Check out your villa...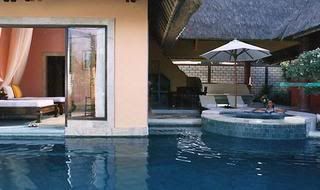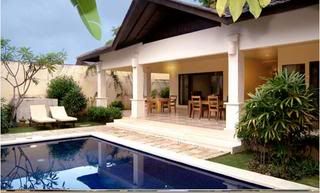 You even have your own private outdoor dining area. NEXT TO A POOL!!!
It's like it's calling to me asking to come come and come! I mean the landscape itself is so fantastic. Again, let's hope that the picture is really showing the true deal ok? *fingers crossed*
Not to mention this whole package comes with a 2 hours Lusur Massage. Well according to the travel agent, there would be someone coming over to your villa and bring you over to a spa for your therapy. I wonder what is lusur massage but yea they showed me some picture that looks something like this...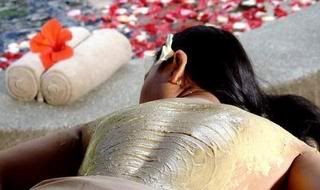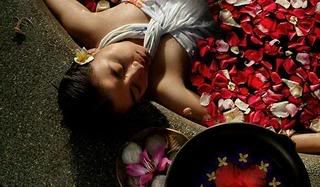 Cool eh?? And guess what? The whole deal only cost RM571!! Inclussive of a half day city tour where there would be someone bringing you around Bali for sight seeing. You know what? MORE PHOTOGRAPHY FOR ME!!
Well air ticket's quite reasonable as it summed up around RM362.98 I think... LOL but the put off part is, I gotta wait till January 2008 to travel for this deal.. Sigh. I have no more annual leaves to take for this year as my leaves are planned and fully booked. So let's keep our fingers crossed, Shall we?