Last 2 weeks back there was this event in a friend's Church. It's about getting to know the culture of the Japanese and some of its little ceremonies that they have over there. This event is held in New Life Center... Quite a nice building if I'd say so myself.
It's quite a nice place, Not very hard to find. No doubt yes I've made a few wrong turns here and there but it ain't so hard! Used to be some sort of industrial building as the insides are pretty huge. Not to mention there's loads of industrial buildings surrounding it.
These 2 are a lovely couple also known as our hosts. Edwin and Jing
Yes the lame ol looking me trying to relax myself on my seat. And *SNAP* my colleague took a picture of me. =.="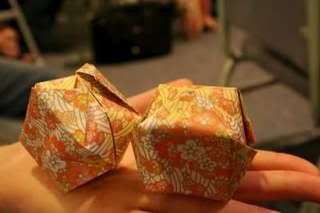 OK First lesson is to learn how to do some origami. Nothing fancy, We just ended up folding up balls. And guess what, We had those balls we made look like this. Sorry though for the prop arrangement. LOL It looked so wrong....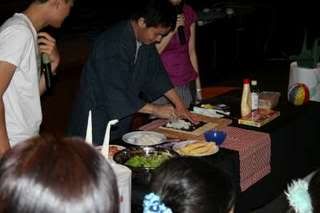 Next lesson is a demonstration of how to make Sushi! Yumm Yumm... His skills look good but then again I'd still prefer Genki for now. LOL His skills though may look good but still an amateur. Sorry mate didn't mean to diss you but it's a good attempt my friend.
Later on There's this small little section where we can try out Their Yukata and
Summer Kimono.
My colleagues all wanted to try out the outfit and here goes the me with a camera. This is the Frog.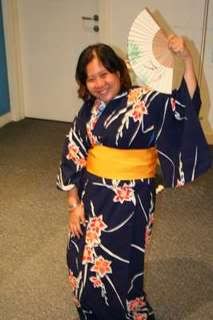 And the
Pig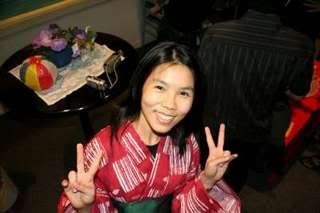 Our hostess for the day. Still trying to act cute! haha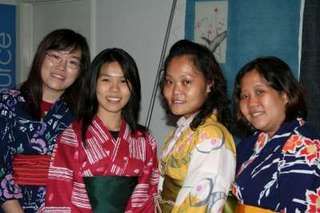 A group picture we have The
Cow
,
Hostess
,
Frog
and
Pig
The Whole group plus the
Tapir
in Green. I know I know, you guys would probably think that I'm rude giving people names and so on. But just so you know, They called themselves that. Don't ask my why, It just happens...and they called me a dog and roach too... *sweat*
Cute eh? I just had to snap this pic. LOL She's a model in the making!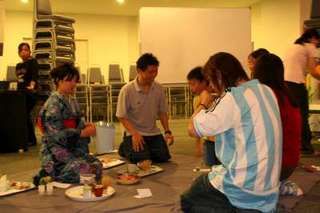 Yeap, That's me. Knelt down like a true japanese being served by a REAL Japanese woman drinking tea in a
Japenes Tea Ceremony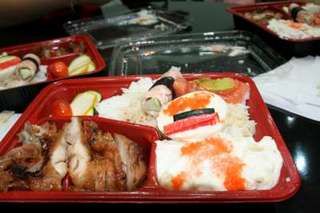 Later on was dinner time! each of us had a bento box served with delicious Japanese food. We have Teriyaki Chicken, Potato Salad, Egg, Salmon Sashimi and a Ham roll thingie!
Over all the whole event was a good one. Learned some Japanese culture. Well enough to be a half Japanese guy! Half only People! half only! Later we went home feeling pretty much satisfied yet tired. Well it's a good sunday well spent :P