As some of you may know, I have been away for most of last week on a short trip back to Sitiawan and Penang. It's been 2 years since I ever stepped back to the place where I grew up. It's always refreshing to go back to your roots once in a while to check out and see how things are going.
Sitiawan used to be a small town where there's only 1 traffic light on a crossroad in the middle of town. Now there's so many traffic lights and even the town has changed so much. It grew much bigger and instead of seeing old rust up cars, there's so many nice looking cars; even a BMW M6!
I used to stay behind this shopping center. It used to be FAJAR. Now it has changed to become THE STORE. I'm not sure how inside had changed coz I did not go in there. But I'm sure things has changed for the better. :)
This Chicken rice store is still around. I used to remember back then, my mom would give me money every weekend mornings to buy either chicken rice or wantan noodles for the whole family. I would take my bicycle (yes I used to cycle back then) and ride all the way there to get breakfast for the family :)
I even went back to my old school to see how things have been going. Some of the teachers who used to teach me back then is still around. Unfortunately, the teachers are growing as well....in age! wahahaha. The school is still the same but just minor changes here and there... 10 years since I left after form 5 and most of the teachers still remembers me...how touching.
Well ALL OF THE TEACHERS SAID I GREW SIDEWAYS!
One even told Eileen that I used to be an "
OUTSTANDING
" student. (Note the inverted commas at outstanding :p)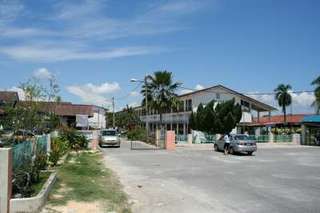 The main school entrance.
The famous Gong Diong Chang Memorial Science labs.
Main secondary school building. I spent my form 1 to 3 in this building in different classes.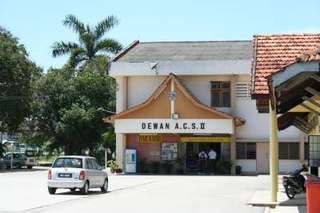 The main school hall. The library is attached to it as well.
Some art work by the side of Gong Diong Chang Labs
This used to be a sheltered parking lot for the teachers. Now it has been removed. Even teacher's facility can be removed! :p
The School office building.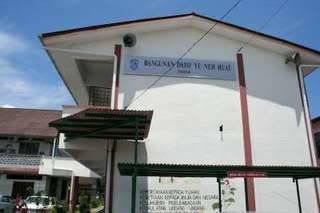 This is a new building that was donated partially to the school by the late Yu Neh Huat. He used to live opposite where we stay and his family is a close family friend of ours :)
Another main gate shoot.
Indeed so many changes had taken place back in this small town. The only fast food restaurants we had back then was only KFC. We had only 2 branches there. I remember back then, whenever we celebrate someone's birthday,
IT'S ONLY KFC WE'LL GO
. Now? we're spread with Pizza Hut and even McDonald's! We didn't have mamak back then and now we have a couple of them all over as well.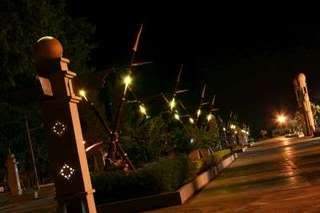 During the night, We headed to Teluk Batik, A famous beach that most Sitiawanese would go to just to take a fresh deep of the sea.
Too bad it was night time and it's an old folklore that we shouldn't swim in Teluk Batik at night. Si I resorted to taking pictures around.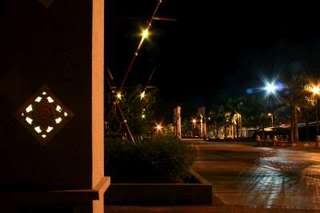 This used to be just empty and now we have a full length walkway along the beach.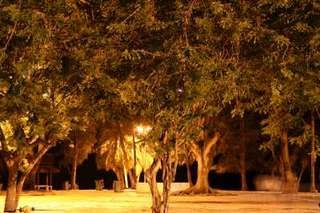 Behind these trees is the sea. But we did not approach the sea. So I took some pictures of the trees.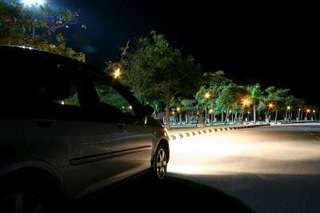 Later then we decided to head back to town. There's lots of young Mat Rempit around there. I felt uneasy as we left the car quite far away. So I decided to take a turn back and head off to town again.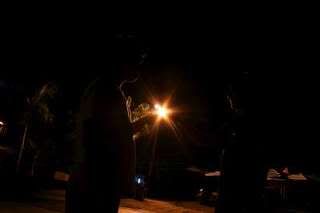 No pictures of us? OKOK Here's a picture I took that I find kinda nice. You cant see us though but I really like the effect.
OK people. I'll stop here for now. While I'll get ready to write about our trip to Penang later on. I have a lot of pictures of Penang so I need to put it on a seperate post. Adios