Yea yea I know, It's been a while since I have blogged and People from everywhere thought I'm dead hehe. The fact is I'm not dead. Just been kinda busy with other stuff. Doing on some issues that has been on my priority list for a while.
MATTA fair had just ended and guess what? I have signed up for a cruise trip. Apparently I need to have a passport that is above 6 months before expiry. And my passport was expiring on... 30 SEPT. =.=" 1 month shy and I have to get a new passport.
I have read some time back that the new immigration system had changed and It's so much faster now to get your passports done. 5 years ago it was like 2 weeks before it could be completed and now the new system had enhanced it to just merely 2 HOURS.
Guess what? It's still a friggin bullshit to me. Took me like 6 hours to get my passport. The queue was long, The wait was long and the process was SOOOOOOOOOOO fucking slow. And to think that after the
erection
election has completed and DAP had won Selangor, thought the Selangor branch in Subang would kinda speed things up. BUT OH NO! Hell it didn't. Maybe it's just a way the government decided to retaliate back or to get back to us as citizens of Malaysia for not voting for them.
We were so bored to our nerves that we ended up having 3 sets of Teh O Ais and some food. over and over again we would just go back to the canteen to sit and drink and eat. Damn this would not look good to my resolution to work on my body =.="
All in All, The system is still stupid, the staff in the immigration office is still stupid and rude, the wait is long and fucking system still always goes down. Well I heard the offices in KL where my other friends did his passport reported to me that it was in a jiffy. So maybe it's just the government in Selangor has something up their sleeves sigh!
************************************************************************************
Oh yes, guess what? Eileen and I have gathered up a new interest. Wanna know what is it?
Well it's being a bookworm or a nerd. I thought for a while now that since young my parents had been making me read lots and lots of books but I've never fulfilled their wishes but only to end up roaming around or playing games or doing something else apart from reading.
Since age had caught up with me, we guessed it is time for us to bring back "fond memories"
So we decided to buy lots and lots of books to start reading. In one day itself we have gone to both Borders and MPH to buy books. Guess what we've bought?
These are the 6 books we bought for the day to read. We spent like over RM200 on them.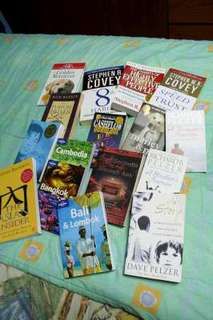 Well these are the entire collection of books I have thus far.
Note: Yes I have finally found back the Cambodia Lonely Planet that someone wanted to borrow for her trip there. So sorry I couldn't find it. I found it in my brother's room one day when I went in there to dig back for some of my old stuff. =.=" bloody thief for a brother huh?
OK OK some of you are not convinced that we can be nerds.... but hey we all have a nerd in us right?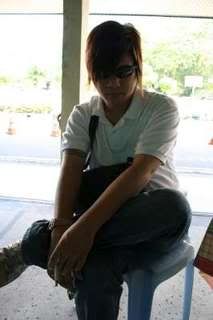 Are you still not convinced? Well, yea we would look more cool and cute people than nerds, but hey, it's the thought that counts right? :p
Lastly, pun for the day, Realized anything wrong with the shape of the fences?
Still don't get it? Hmm... let me show you another one.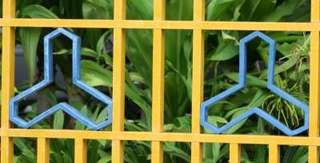 What does this shape look like to you? If you still can't guess it, Well just be proud that you're innocent. :p