As most of you know, I have long hair and well I look look a little matured for my age. Hence I decided to keep my hair long until of late. Recently I've became weird and thought to myself I should cut my hair short just to see what comes out of it. Wanna know what's the difference???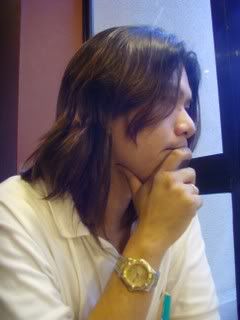 I look like this, a cool, macho, long haired freak. Some people may call it ugly some people make turn their heads to get a glimpse to see who I am, Some even felt I SHOULD CUT MY HAIR SHORT.
But.....
Evolution has begun.....
Recordedmoments Presents....
Know what? My gf laughed at me sooooo much when she saw me on webcam today. Well she's not the only one, even my friends were like OMG!!!!!
Now I look even younger. Yesterday when I had long hair, I went to had chili's for lunch and ordered Baileys. Guess what happened? THE FRIGGIN WAITER CAME OVER AND ASKED ME FOR MY ID. Maybe I look young so he thought I was under aged. Some people would feel offended when they were asked to present their ID card. But me? I laughed my ass off coz of that incident.
As of now, with this new hair cut, I bet there would be so much more others thinking I'm either 19 or 20 years old now. Should I take it as a compliment or an insult?? I don't know just yet but soon to find out! wahahahaha
I noticed something weird. I look ridiciously like L. Wanna know
This is L on the Right side of the picture.
This is me.... =.=" All I need is a series make up of eye liner and I'm all good
P/S: I blame it on the absinth Eileen got for me from Germany. :p